My Whole House is Disorganized…How do I get Organized?
Is your whole house disorganized? It's overwhelming, isn't it? Unfortunately, it seems to be much easier to let disorganization take over and clutter build up in every room than it is to keep it clean. First things first: cleaning up a disorganized home is going to take some time. Just like it took a little bit of time to get in its current state, so will the cleaning up process. So, let's go step-by-step, starting with a plan. Instead of just jumping right in, which may inadvertently create even more clutter, take some time walking through your house and write down what actually needs to be done, separated by room. Everyone loves to be able to check to-do items off their lists so aim to check off one thing each day and keep the list in a public area you walk by often. Not only will this serve as a reminder of what needs to be done, but will also motivate you and make you feel like you're getting stuff done!
Because cleaning up a whole home can be daunting, improvement needs to be seen really fast or you may experience an early burnout. You want to avoid having any burnout! So, start with small projects, like a smaller, less cluttered closet in your home. As you clean up the closet, sort through it, making piles for the items you want to donate, sell in a yard sale, and trash. Once you've gone through all of your items, you'll have a better idea on how to best organize the things you do have and still have room for items you may acquire in the future. Do you want to add closet organizers or shelves? Now would be the time to think about that!
Even though your goal may be to work on one project a day, understand that it's okay if some projects make more than one day. For those bigger projects, just continue to chip away at them until it's complete. Figure out when you can schedule in some time to work on the tasks, like some time in the morning and again in the afternoon or evening. Once you've completed your list, and have a clean and organized home, you can put a plan in place to keep it organized.
Daily maintenance is key to preventing the disorganization and clutter you just cleaned up. Keep up the routine of doing something each day. If you keep saying "I'll do it later", that later time may not come for a while, if at all, and then you're right back where you started. One trick, especially for two-story homes, is to keep a box on the bottom of the stairs, or vice versa. As you are cleaning up one floor, place items in the box that need to go on the opposite floor to be put away. This'll prevent you from having to go up and down constantly, which can also lead to burnout and keep you from continuing.
Another thing you can do to keep up the momentum is to have a shared calendar where everyone in your household can see when it's time to clean a particular room of the house. For example: throughly clean the living room on Sundays, one of the bedrooms on Monday, a bathroom on Tuesday, and so on. A new routine is never easy or immediate, but if everyone works together and you stick to a plan, it'll fall into place easier and faster.
Remember when you made a list of the things that needed to be done to get your house back in order? Create a similar one now for the regular upkeep of your home. It'll serve as a nice reminder so you can keep on top of everything. Go one step further and create a checklist for each member of the family so they have an assignment. Then, a routine can be established there as well. While this all takes time, effort and patience, it'll be well worth it to have a clean and organized home!
Want more organization tips? Check out these blog posts!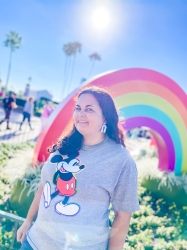 Latest posts by Krystal | Sunny Sweet Days
(see all)