5 Things to Do Before Starting a Whole 30
The New Year makes hopeful people want change. While many resolutions may be to spend more time with your family, get organized, or ask for a raise, many try to lose weight. I heard something on the radio this morning about how after about seven or eight days people who made a resolution to diet have already quit. Dieting looks different to everyone, but it should not be discouraging or difficult. I'm not saying it should be easy either, but you should find something that you enjoy.
The idea of a Whole 30 is the first thing to a diet that I've enjoyed. I may have tried other methods, but nothing clicked. With a Whole 30, it's simple. Eat good food. Avoid sugar. Drop grains and dairy. Eat meats, vegetables, fruits, and a little bit of healthy fats. That's it. It's simple and to the point. I learned how to read food labels, and I didn't need to count calories.
If you're about to embark on a healthy eating adventure, consider Whole 30. Read the book It Starts With Food: Discover the Whole30 and Change Your Life in Unexpected Ways
, and learn their reasoning behind their popular diet. Ditch the carbs and the soda and get back on track.
1. Get rid of the junk. Be honest with yourself. If you have a stash of cookies in your pantry, you may not have the willpower to continue your Whole 30. Sugar cravings are no fun, but they pass! It is best to start a Whole 30 with no sugar in sight. When I did mine last year, my husband hid his candy stash. I emptied out all the soda in the house, I threw away hidden items that were not compliant, and I replaced our pantry with Whole 30 approved food. Some items like chicken broth and salsa had to go since they had added sugar.
Since I hate wasting food, I actually have scheduled my Whole 30 to begin after the upcoming weekend. I am going to eat all the cookies, drink all the soda, and get rid of the junk!

2. Plan ahead. I was successful in my first Whole 30 , because I had the luxury of preparing three meals at home. I worked close by so I could cook breakfast, lunch, and dinner easily. Now that my commute is much farther, I know that I am going to need to plan ahead to ensure that I don't break any Whole 30 rules.
I start my meal plan by assuming that breakfast is taken care of. I usually do eggs and sugar-free bacon. I sometimes will make chicken sausage with spinach to pair with eggs as well. Lunch is either leftovers or a large leafy green salad with chicken breast and lots of tomatoes. Dinner can be tricky. I feel as if I may not have enough time to prepare an entire meal after work, so I am going to utilize my Sunday evenings to be more proactive. I will prep my dinners and do what I can ahead of time. For example, I love sweet potatoes and am grateful they are included in the Whole 30 plan. However, I often feel that slicing and dicing them is too much for me to do after a long day at work. By using Sunday nights to prep, my weeknight dinners should be done much faster!
Use the books Well Fed and Well Fed 2 for cooking inspiration. Most of the recipes are easy but unique. You will learn how to roast a spaghetti squash and how to construct a "deconstructed gyro."
3. Read the book. Don't just take what you see on the internet and decide that you know it all. READ the book. Learn about the science behind their statements and determine if this is right for you. If you take a shortcut and, just use what you find online, you might not feel as connected to the diet as I do. I am committed and motivated!
Seriously, read the book It Starts With Food: Discover the Whole30 and Change Your Life in Unexpected Ways.
One delicious burger inside Well Fed 2
4. Master one recipe. You may get tired of eating the same thing too frequently, but if you "know" one Whole 30 recipe by heart that you LOVE and can make in a hurry… you will be pleased with the results! I personally love cooking chicken in a skillet, deglazing the pan with a lot of garlic and seasonings, and serving it on top of lettuce and tomatoes. Another go to recipe that I enjoy is "tacos" with huge romaine lettuce leaves as the shells. BLTs without the bread and surrounded in lettuce is another favorite.
By having one go to recipe, you set yourself up for success. The worst thing is to be hungry with no idea of what to make for dinner, no ingredients prepped or purchased, and no time.
5. Have a support system. If you have no one to talk to about your lifestyle change or no one to celebrate your success, it can feel kind of lonely. Find someone who understands (even if they are online!) to help you on your journey. The first time I did a Whole 30 I participated in Two Twenty One's Instagram challenge. Seeing everyone's meals throughout the day was motivating. They could do it, why can't I? I was keeping myself accountable (even if taking food photos may sound silly, it really did help track my meals), and I was networking with other bloggers.
This time around I've joined forced with Casa de Crews, Creative Home Keeper, and This West Coast Mommy. We all are dedicated to sharing our Whole 30 experiences online, and we hope to share inspirational stories, easy recipes, and tips for getting through this dietary change.
Follow along at #Whole30BlogChallenge on Instagram and Twitter. See what we are eating, see our progress, and our results!
#Whole30BlogChallenge
Bonus: Yes, you will be that annoying person at the restaurant. You will not know what to order and you will get frustrated as you feel that nothing "out" is compliant. You have options. Research before you go. I've had great success in Mexican restaurants since I can order seasoned beef/chicken/steak and pile on pico de gallo, guacamole, and lettuce. I've ordered steak and sweet potatoes at restaurants or chicken with a side salad. I've ordered bun-less turkey burgers with green peppers and mustard or eggs with fruit. You can do this.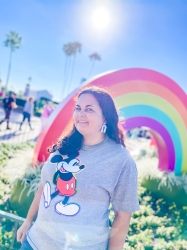 Latest posts by Krystal | Sunny Sweet Days
(see all)