April showers bring May flowers and savings! If you love to pinch pennies, April is the perfect time to buy. You will find all sorts of deals on produce, cleaning supplies, certain appliances, and more. Look below at what to buy during the month of April, and see how much you can save!
What to Buy During the Month of April
Since Easter was so early this year, you can start enjoying Easter clearance now! Here are some of the Easter clearance items you can look forward to seeing:
Easter candy (jelly beans, Peeps, eggs)
Plastic eggs
Easter baskets
Easter grass
Easter decor items
Easter linens, towels
Bunny themed decor
Who is ready for spring fresh produce? There is so much to enjoy during the month of April, with mushrooms being one of the cheapest in season items you can buy! This is the time of year they grow like crazy, so now is the time to stock up. Whenever you buy more spring produce than you can use, dry, freeze, or can it to make it last longer.
Artichokes (great for pickling!)
AsparagusCabbage
Beets
Rhubarb (pie, anyone?)
Mushrooms
Peas (freeze them for later!)
Grapefruit
Strawberries
Can you believe there are still winter items on the shelve? Stores are NOT happy about using this space for winter items, so they will be marking these items down like crazy. You may not be able to use these items now, but you will surely be happy when you have them next year. Here are winter items you should stock up on.
Ice melt
Skis and other winter sports gear
Sleds
Snow shovels
Snow gear (hats, gloves, scarves, boots)
Spring cleaning, anyone? Brands know that this is the time of year where people do their deep cleaning. They are ready by offering hot deals on the best cleaning products. With excellent deals on cleaning supplies and more, you have no reason to not get the house in ship shape.
Vacuums
Mop sets, brooms, dust pans
Cleaning sprays/supplies (products as well as paper towels, filters, mop replacements)
Swiffers
Organizational materials (bins, crates, boxes)
Cleaning services (carpet cleaning, painting, etc)
Did you know that Earth Day falls during the month of April? Celebrate the Earth and buy more Earth-friendly products this month. Luckily, there will be all sorts of great deals on these items. Here is what you can look forward to seeing:
Reusable bags
Recycled home decor (earth friendly curtains, bedding, upcycled signs)
LED bulbs (all sorts of sizes!)
Energy efficient appliances
Recycled textiles (clothing, towels)
Organic food products (bread, cereals, vegetables)
Organic baby products (diapers, wipes, onesies, food items)
Organic cleaning products (wipes, sprays, air fresheners, candles)
Ugh. we can't talk about April without talking about taxes. Luckily, if you waited until the last minute there will be deals to be had. You can plan on saving on these tax-related items:
Tax software
General tax services
Ready to get growing? While you will want to hold off on large items such as lawn mowers and edgers, you will want to start buying your fresh items such as plants, seeds, and soil. These items will start off the season at great prices, and this is when you will get the best selection. Here is what you can look forward to seeing on sale in April:
Seeds (packets, seed tape, bulk seeds)
Bulbs
Soil
Live plants (ferns, ivy, houseplants)
Shrubs/trees
Perennials (herbs, roses, specialty grasses, bee balm)
Annuals (petunias, impatiens, marigolds)
So what are some other random items you may be able to find deals on in April? With new models coming out of many types of electronics, this may be the best time of year to buy:
Laptops
Desktop computers
Game systems
Cell phones
Computer keyboards, accessories
DVDs, Blu Ray
So are you inspired to start shopping? As you can see, April is the prime time to find some deals! Give this list for what to buy in April your consideration, and see how far your money can get you! Get ready to save next month too: What to Buy in May.
How to Save Money This Year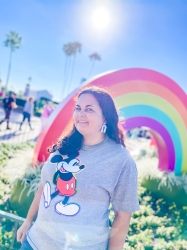 Latest posts by Krystal | Sunny Sweet Days
(see all)