Managing the Side Effects of Wegovy
What is Wegovy?
Wegovy is a commonly prescribed, FDA-approved drug used to help treat obesity and being overweight in adults. It's a relatively newer prescription therapy to the market, as it was initially FDA approved back on June 4th of 2021. The drug itself is especially beneficial when used in combination with proper diet and exercise, as it can help patients not only lose the weight but to keep the weight off as well.
Nearly 70% of Americans today are considered to be, or at one point have been considered obese or overweight throughout their lifetime. To be classified as overweight, your BMI must be greater than 27 (BMI>27), and in order to be categorized as obese, your BMI must be greater than 30 (BMI>30). Being overweight and obesity are serious health concerns that shouldn't be taken lightly, and thankfully there is now an FDA-approved drug available on the market to help individuals overcome this battle. If you fall into the classifications of overweight or obese, Wegovy might be of interest to you and can be prescribed through companies such as AgelessRx that specialize in prescription therapies such as Wegovy weight loss injections.
What Are Common Side Effects of Wegovy?
Although Wegovy is especially beneficial in helping to combat being overweight or obesity, there are some mild, although manageable, side effects associated with its use. However, the majority of the side effects tend to decrease or go away after your body gets accustomed to the Wegovy injections. Listed below are the common side effects associated with Wegovy weight loss injections.
Diarrhea
Vomiting
Nausea
Constipation
Stomach pains
Headache
Indigestion
Stomach Flu
Fatigue
Belching
Acid Reflux
Dizziness
Flatulence
However, don't let these side effects deter you from beginning your Wegovy journey. These side effects are all commonly associated with semaglutide use and in the vast majority of cases, no medical attention is required. These side effects are common in the first few days to weeks of Wegovy use and tend to decrease with time. It's also important to note that swelling and itchiness are also common side effects at the injection site. However, again these are temporary side effects that should lessen over time.
How to Manage the Side Effects of Wegovy?
If you're experiencing any of the side effects listed above, there are some ways to help minimize their impact on your day-to-day life. For instance, if you're experiencing stomach aches, vomiting, diarrhea, or any other gastrointestinal-related health concerns, it's important to follow the BRAT diet or to eat foods that will be easy on your stomach until these symptoms subside. Examples would include bananas, toast, rice, soup, crackers, etc. If you're feeling a sense of dizziness or nausea, you can attempt to lie down until the symptoms subside.
Fatigue is another common side effect associated with Wegovy injections for the first few days to weeks of use. However, this can also be treated by drinking things high in caffeine such as green tea or coffee. However, be sure that you aren't drinking these on an empty stomach, or they can further induce symptoms of nausea.
Gastrointestinal health concerns and side effects can also commonly be treated by taking antacids or eating foods that are rich in fiber. Fiber pills and bicarbonate of soda are also extremely beneficial in combating GI-related side effects. You may also try to drink green tea, and chamomile tea or exercise to reduce the severity of your symptoms.
Last, but certainly not least, you may notice swelling, redness, or inflammation around the injection site as previously mentioned. However, this is the body's natural response to the Wegovy injections, and it should subside after a few doses have been administered. In the meantime, you can help to reduce the irritation by putting a cold compress on the injection site.
Of course, if any of these symptoms last longer than a few weeks, it's important to seek out medical attention, even if the symptoms themselves seem relatively mild.
Overall, Wegovy is extremely beneficial in combating being overweight and obese among adults today. Although side effects are to be expected in the initial days of use, the vast majority should subside as quickly as they appear. If you're suffering from weight-related health concerns, Wegovy weight loss injections may be a great option for you to consider!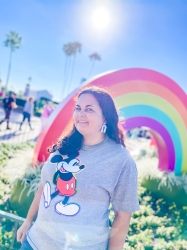 Latest posts by Krystal | Sunny Sweet Days
(see all)