Warby Parker Glasses: At Home Try On
I have worn the same pair of glasses for going on three years now. They were black frames and nothing special. As an affiliate for Warby Parker, I decided it was time for an upgrade. Here is my Warby Parker glasses experience:
My son actually snapped my glasses in half about two weeks ago. I knew it was time to upgrade, but I wear contacts so frequently. The idea of buying designer frames seemed silly if I wasn't going to wear them often. I knew it would be nice to have a quality pair of glasses for those lazy Sunday mornings I don't feel like putting in my contacts, or to just add some fun to my style. I do like glasses. I like bright colored glasses even more. I just never imagined myself actually in a pair.
The Warby Parker Home Try-On Program is pretty simple. You make an account, add five frames to your basket, and "check out." They take your credit card information just in case, but they do not charge you unless you don't return the frames. I promise returning them isn't a pain. They provide a box with a return label. Just drop off at a UPS location!
So, when I was choosing my five frames, I wanted bright, bold colors. I wanted frames that I usually would not try on in a store. I wanted ones that were different. I also knew that it was only $95 for a pair of prescription frames, and that is definitely within my budget!
The frames arrived fast, and they were packaged very nice.

From top to bottom: LYLE – PLUM MARBLEWOOD // LYLE – ENGLISH OAK //
CLYDE – BLUE MARBLEWOOD // NEDWIN – SUMMER GREEN //WALKER – CANTON BLUE
 It was hard to narrow it down to five frames, but I didn't want to waste too much time trying to pick the perfect pair. I knew I would be happy with any most of them, so I just picked these hastily. I chose two colors in the Lyle's since I thought for sure I would love that shape the best.
The Lyles and the Clyde styles look so similar that the only differences I could really see were the color. I didn't expect the Oak Lyle to be so light, so I immediately knew those weren't my favorite. Out of these three, I like the top pair the best.
I knew the blue pair was going to be too large for my face, but the color was so fun. The green pair, with its rectangular style lenses, seemed more my style.
This post wouldn't be any fun without showing me IN the glasses, eh?
Wearing both the Lyles and the Clyde.
I had friends say they like the Lyles in the Oak color best, but they are my least favorite. The green pair is on my TO BUY list! Overall, it was an easy and fast experience. Usually glasses fall off my face, and I have to get them tightened often. These fit just right. I did look for frames with a narrow width though to make sure I didn't have that problem.
Have you tried Warby Parker before?
Warby Parker Review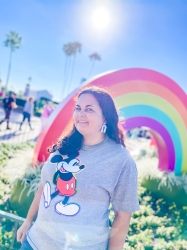 Latest posts by Krystal | Sunny Sweet Days
(see all)