How to Become a Content Creator
There are many ways to earn extra money from home: cash back sites, surveys, direct sales companies, and blogging. One of the lesser known ways to create an income from home is to create content to sell to bloggers and other websites. Some people call this work being a VA or Virtual Assistant, some refer to themselves as ghost writers, and others refer to their job as content creators. No matter what you call it, this is a great work from home field.

Why is this an important gig? Think of busy bloggers who don't have time to always churn out high-quality content. It's freelance writing but for a specific niche. For example, some content creators sell recipes or roundups to bloggers. Before you start, make sure you have access to a computer (I use my new Intel 2in1 machine), a word processing software (Google Drive is free), a Facebook account, and a PayPal account. You can also use a word counter to help count words, characters, sentences, paragraphs and pages in real-time, along with spelling and grammar. Are you ready to learn more? Keep reading!
Where to Sell
There are a few different sites where you can sell content that can be found through a Google search. Some VAs have websites where they list articles that are available or share the services that they offer. However, the place that you will most likely find the most success is Facebook. There are several Facebook groups that have a large number of buyers and sellers. Just do a Facebook search for "Content for Sale" or other variations of that title. Once you are approved for the group, the first thing you should do is read the group rules in the file section. Next, you should look through the current items posted by other sellers. That will give you an idea of the niche of content that is in highest demand in that particular group.
What to Sell
Your options for what to sell really are limitless. There are thousands of different categories of websites out there, many of which are looking for content. If you are a stay at home mom or dad, you may be able to write content about homemaking, keeping a budget, parenting, and more. If you are a career man or woman, you could earn extra money by writing about how to have a successful interview, resume writing tips, and other career-based topics.
You could even write or create content for a less broad niche that you are interested in. For instance, a how-to article on a craft or hobby that you enjoy. Or you could create a post series about fitness, weight loss, or something else that you are knowledgeable about.
If writing isn't your thing, you could also explore the idea of creating recipes or DIY posts to sell. These both require you to have a bit of knowledge and skills in photography. You definitely don't have to be a professional photographer, but what really sells your posts in this category are high-quality photos. Whereas, you don't necessarily need an image or photo with written content.
Rules and Standards
There are a few rules and expectations that you will find in most of the groups of content sellers and buyers. Make sure to double check the rules listed in the groups. Some may vary from what is listed here and if you don't follow the rules, you are banned from the group.
Exclusive Content – ALL written content needs to be exclusive, meaning that it is only being offered to one buyer. Selling multiples of one written post or even multiple variations of the same post will be damaging for your client's business and will quickly get you banned from groups.
Semi-Exclusive Content – Recipes, DIY posts, and other non-written content can be sold as semi-exclusive. The industry standard is to offer the same recipe to no more than 5 bloggers and to offer different photos of the recipe or craft to each person. You could also offer recipes as exclusive to one buyer at a higher price if you desire.
Non-Exclusive Content – Round-ups are the only content that is acceptable as non-exclusive content. Round-ups would include things such as a list of Amazon items in a certain category, a list of coupon deals at a particular store this week, and so on. These are typically sold for really low amounts to each client but can be sold to as many as request it.
Groups may have other rules to consider how often you can post, when the post should be removed, etc. But the number of times content is sold is one of the more important rules that should be followed.
Are You a Buyer?
Protect yourself and ask for references or use only high-quality groups!
Use the Right Tools
Once you start writing and selling your work, you will probably see a need to upgrade some of your tools.
Creating web content is a great way to make money from home and one of the great things is that you can work as little or as much as you want. You can create a clientele that regularly purchases your content and start really great business from home as well.
Have any of you worked as a VA or content creator? What are some ways that you earn extra money from home?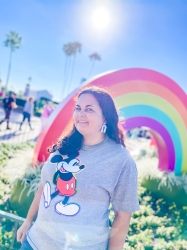 Latest posts by Krystal | Sunny Sweet Days
(see all)