Update Your Home With Style
Is your home in need of an update or a general refresh? Whether you have been at home looking at the same decor for days or are new to your home, get ready for a variety of fun and aesthetically invigorating ideas that will bring new life into your home.
Tile
Have you ever considered using tile in your home? If you responded with an enthusiastic "Yes!" then you are probably already familiar with their timeless appeal. Should you be new to the world of tile, take a look at Spanish tile. Spanish tile is beautiful in its design, appeal, and detail. It is easy to care for and functional for daily use while maintaining its charm.
Choosing Spanish tile means you can use it anywhere your heart desires. Simply find a pattern, or many patterns, that suit your tastes and begin planning a gorgeous and updated new space. These tiles are great to work with and can be placed all over your home. Some places to install them are on any flooring surface, stair risers, and kitchen and bathroom backsplashes. You can even place them outdoors to enhance and bring your interior living style outside and make it into a comfortable sitting and entertaining area. The sky is truly the limit when it comes to location and design.
Decorate
Depending upon your preferences, style, and budget, there are endless ways to decorate your home. Begin by looking at your walls. Do you enjoy what you see? If not, try moving art and photographs from one wall to another for a fresh view. Create a gallery wall and combine different genres of art or family photographs to mix it up a bit.
Here is a video showing you some creative ideas for creating your own gallery wall.
If you are looking for more ideas, add plants to your home. Greenery is beneficial for air quality and adds a lovely organic interest in both color and texture. Should you happen to be away a lot for work or travels (or if you do not have a green thumb), opt for faux plants instead. You are still able to create a beautiful greenscape that looks real.
Organization
As any home stager or interior designer will tell you, an essential part of maintaining a stylish home is keeping clutter under control. Take some time to walk through your home. Jot down areas that need improvement in terms of organization. Once you have an idea of where the problems and eyesores lie, begin to take action.
Start your home organization revolution by investing in organization supplies. You can also repurpose items you already own. Take whichever path works best for you so that you do not get stalled in the process. The key here is to get the job done with comfort and satisfaction instead of making it an unhappy chore. When the organization takes on a more pleasant tone, you will be more apt to continue in that habit and stay the course.
Once you have your supplies in hand, walk around your home again and tackle one spot at a time. Bring a basket or tote with you to corral any items that do not belong in that space. Have the same basket with you as you move throughout the house and collect more items or deposit them in their new homes along the way. After you have finished the task of organizing, do your best to maintain your hard work by cleaning up after yourself. A few minutes at the end of a project or busy workday will save you a lot of time later.
Make some changes to your home that will bring you happiness every time you look at them. Have fun in the process and enjoy the results.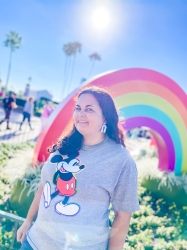 Latest posts by Krystal | Sunny Sweet Days
(see all)