Unique Ways To Make Designs And Patterns At Home
For every novice designer or DIY enthusiast, making patterns, designs, and prints can be a bit overwhelming, which is why they often resort to readily-available designs. From enhancing illustrations to amplifying graphic design projects, patterns and prints can be used in various applications. With the help of a few modest tools and some experimentation, you can create your own patterns at home. Most of the steps you'll have to follow are easy, affordable, and produce impeccable results. Once you learn how to make your own prints, you can apply them to merchandise, interior design projects, and graphic design portfolios. Here are some unique ways to make designs and patterns at home to enhance your DIY projects.
Use a Pen and Paper
The best and simplest way to make patterns is by using a pen and paper. You can then make a copy of the final result to create a digitized version. Draw simple elements or figurines of any concept you like. For example, draw tiny flowers of varied designs to make a floral pattern; similarly, use tiny monsters to create a funky doodle. Use a designated paper size to make the final pattern. Repeat the elements in an organized fashion to make sense of the pattern. If you wish to make a linear pattern, use a ruler or graph paper. You can also use felt pens, crayons, or watercolors to make colorful patterns.
Explore Digital Media
Several drawing and illustrating software programs are convenient as they reduce the drawing time and provide professional results. Some digital drawing tools offer the option of making patterns by repeating the patterns within the chosen grid. This feature is extremely useful for individuals who prefer mandala patterns. You can also print your pattern by directly sending it to the printer using an inclusive feature, thereby making it more convenient. You can either use your computer or a digital drawing tablet to make patterns of your choice. Explore your older projects or take inspiration from other artists to create your own pattern.
Use a Sewing Machine
Whether you are a fashion designer or a DIY enthusiast, a sewing machine can make things easier. You can either sew a design on fabric directly or use a pair of scissors to cut your own pattern and join it using a sewing machine. Screen printing is also widely used in the textile printing industry. So, if you are into fashion, clothing, and textile, look for rotary or flatbed screen printing to create your own designs on textile.
Use a Vinyl Cutter
Vinyl cutters are popular among individuals who wish to start their own fabric or fashion brand. They are also used to make hoardings, advertisements, and banners. Basically, this machine is an important part of the art, craft, and imaging industry. Just like a traditional printer, this machine receives images from a computer or any other device and prints the pattern on paper. Even though it is a bit expensive, the professionals at thebestvinylcutters.com say that the results it produces make it worthwhile. From fridge magnets to stationery, you can create a wide range of products with a vinyl cutter. 
Experiment with Fonts
This method is particularly included in this guide for graphic design enthusiasts who love typography prints. Use a digital drawing tool to make things easier and print the pattern in your preferred size. Pick one or two of your favorite bold fonts and type out random words or lyrics of a song. Add colors and different font sizes to make the print more interesting. Using Adobe Photoshop or Illustrator is highly recommended for this method as it makes the process seamless. Repeat the lines or type different words and place them randomly on the canvas. Print the pattern and get it framed to adorn your plain, white wall, or get it printed on a t-shirt.
Use an App
Explore different pattern generation tools to make a print within seconds. Some of them are free and can help you create impressive designs. You can expect seamless tiling or haphazard placement of graphic elements, depending on your preference. While some apps provide in-built CSS pattern generators to paint pixels and create a pattern, others provide fonts and letters to create maze-like prints. To create a design with an edge, use apps that let you make prints with emojis or readymade icons.
With these tips in mind, you should now be ready to create your own pattern and design that can later be utilized in several applications. From making prints for textiles to creating a pattern for phone covers, you can explore one or more of these unique ways to become a pattern master. So, what are you waiting for? Start looking for inspiration and get to work!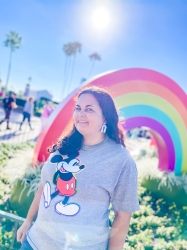 Latest posts by Krystal | Sunny Sweet Days
(see all)