A Day in Cozumel and Tulum Mexico
For Cozumel we knew we wanted to see the Mayan Ruins. We knew it was going to be more of a historical relaxing day. We boarded a ferry in Cozumel that took us to the mainland (Playa del Carmen). From there, we took a bus to Tulum for the ruins.
Once we were on the bus, they dumped us in a gift shop for a bit to shop. I think Scott was most excited about "real" Coca-Cola. When we finally got to Tulum, it was HOT. It was busy and we had a bit of a walk from the parking lot to the actual site of the ruins. Either way, it was beautiful. Not only was the weather nice, my pictures show just how lovely this place was. Luckily our guide only introduced us to a few things and then let us explore on our own.
There was a beach too!
Love these pictures. Far too lazy to watermark. Don't be a douche and steal!
The beach below was definitely crowded but it was so neat to see a beach at such a historical site.
After we explored the ruins and beach for a bit, I was super stoked about a crazy monkey. I love taking pictures with weird animals. This little guy was no exception.
Why, hello there.
Ummmm… does anyone else see what he is doing?!
Lunch!
My first supposedly authentic Mexican taco.
Seriously, we give the Ruins a big thumbs up. If you can get past the large tourist groups, the heat, and the excessive walking… it's pretty sweet!
Slushies before boarding the boat as a reward for our good behavior.
Dinner! <3
And, you know, totally asleep by 10 p.m.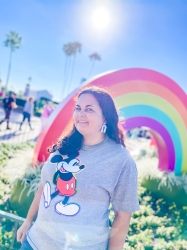 Latest posts by Krystal | Sunny Sweet Days
(see all)