Traveling The World In 2020? Here's What You Need To Know
For the first time in many of our lifetimes, the world was closed due to the outbreak of COVID-19 and all luxury travel was banned. After being cooped up for months on end, you may be itching to get onto a plane and begin traveling again. However, there are now more restrictions in place and traveling as you know it is about to completely change. If you're planning to begin traveling again, check out these things to keep in mind.
Short stays are unlikely
If you're living in the UK, you'll be well aware that the government has put a rule in place where everyone that arrives in the UK must self-isolate for 14 days upon arrival, and this may be the case when it comes to travelling through countries. You may be required to stay in locations for longer than anticipated, so check the rules before travelling.
Can I work abroad?
You might be thinking about working your way across Europe and picking up the odd bartending job so that you can afford to travel for longer, but is that still a possibility? Before applying for a visa, speak to ias immigration solicitors office to see if this is still something you're able to do abroad. Remember that working abroad at the moment may be risky, especially in areas which still have high numbers. Doing research as you go along will help you decide.
Different countries have their own set of rules
As briefly mentioned earlier, countries that you're travelling through may require you to isolate yourself, which may hinder your travel plans. It's also important to remember that countries will have other rules that you will need to adhere to. For example, some areas may still require a 2 meter distance, and you may only be able to enter shops one at a time rather than with friends or family. Find the specifics out to avoid any hefty fines.And once you've taken note of the rules, you can enjoy your Idaho ski vacation in peace and tranquility.
Drive if possible
Getting on a plane at the moment is still a risky move, and that might be one of the things stopping you from getting out there and seeing the world – so don't use a plane! Take the "slow" route and drive to your destination. It'll give you the chance to see other beautiful places on the way and keep you safe from a potential infection. Remember that you'll need to think ahead if you're crossing the ocean via ferry so that you can see what restrictions they have in place.
Choose remote locations
Finally, you may be having a moral dilemma in your head over the desire to travel and whether it's actually safe to. Choosing remote locations with low populations and more importantly, low cases will allow you to travel without worrying about turning the corner. Remember that if you don't feel truly comfortable, it might be a good idea to wait a little while before travelling but if you do decide to go, take these points into consideration and stay safe!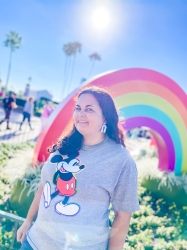 Latest posts by Krystal | Sunny Sweet Days
(see all)