Travel Tips for Your First Solo Excursion
One of the most common reasons not to travel (other than money), is not having someone to travel with.  Many people are under the impression that solo travel is lonely, boring or an unsafe thing to do, but in most cases, that's simply not the reality. And, plenty have been making the leap or are at least thinking about it, with the number of searches on Google for solo travel rising significantly – a 40% increase between January 1, 2015, and December 31, 2017.
With solo travel, you'll have the freedom to do what you want when you want and to rest without feeling guilty when you need to. Planning is easier as you won't have to accommodate someone else's priorities, and you'll be more likely to meet new people, including locals, experiencing a more authentic slice of life.
Just about everyone gets a little nervous when it comes to embarking on a solo trip for the very first time, whether they're a long-time Salt Lake City resident who is venturing outside of the Lone Star state for the first time or a New Yorker with lots of travel experience under their belt. These tips will help ease those nerves and increase the odds of an enjoyable trip that make just make you want to do it solo again and again.
Make Google Your Friend
Do as much research as you can to learn about the destination you plan to visit. The more you know, the more comfortable you'll be when you get there. Study maps and find out about the culture and traditions. Dig deep, educating yourself about appropriate attire, local customs, what the food is like and what language people speak. If it isn't English, take time to learn at least some basic phrases, and download a translator app, which can help make communication much easier.
Book Accommodation For At Least Your First Night
If you don't want to plan out your entire trip, preferring to wing it, at least book accommodation for your very first night. You'll appreciate having somewhere to go too after a long flight, and it will give you time to rest up for the adventure.

Pack Light
Never pack more than what you can carry yourself. You'll want to be able to carry your luggage comfortably when taking public transportation, walking up several flights of stairs and everywhere else from the time you land until you get back home.
This is especially important if you plan on staying at multiple cities, hostels, or campgrounds. You want just enough of the bare essentials to ensure you are well fed, hydrated, and maybe a little entertained. Don't forget to bring your favorite book!
Give a friend or family member a copy of your itinerary
Anytime you travel, there should be at least one person who knows where you'll be at all times. That way, if some unfortunate, unforeseen event happens, like getting lost out on a hiking trail, or if an emergency occurs back home, they'll know where to reach you.
Join a Free Walking Tour
Joining a free walking tour soon after you arrive will not only help you get to know more about the city, but you'll have the opportunity to meet other travelers, some of who may be going solo too.
Plan ahead and research walking tours to see if the tours interests align with your own. Some are reserved for new tourists and others offer hidden looks at a particular area that are unknown to tourists and reserved for more experienced travelers.
Have a Plan in Mind for Each Day of Your Trip
While it can sometimes be a good idea to go with the flow, have at least a small plan in mind for each day of your trip, such as dining at a particular restaurant or visiting a certain attraction, to prevent the temptation to just hole up in your hotel searching the Internet all day.
Sticking a strict itinerary will help you find new and exciting things to keep you occupied and also offer unprecedented looks at your travel area you couldn't get by just holding yourself up in one place.
For many people, the very idea of a solo vacation may seem frightening or lonely. But for more experienced travelers this provides a certain sense of liberty and exploration you don't quite get with other people. Besides, half of the fun of travel is always meeting new people, so the idea of a solo excursion is really not true.
Florida Travel Tips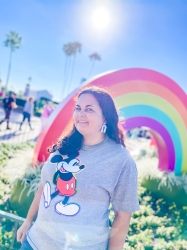 Latest posts by Krystal | Sunny Sweet Days
(see all)