Top 8 Items To Research When Buying a Home
When it comes to buying a home, you're supplied with a lot of information in a short amount of time. The "facts" about your potential new home are often pooled together from a variety of resources. The more people information passes through, the bigger the chance for an error. It's smart to research a few areas yourself.
1. Schools
Whether you have kids or not, look into school districts. Living in an area with poor schools can affect your resale value. Sites like SRNRealEstatePros.com will tell you which schools are close to a property, but occasional school systems change. You can call the school to verify you are within their boundaries. Many websites also allow you to look up school ratings.
2. Homeowner's Associations
If you are considering moving into a neighborhood, verify if there is a homeowner's association. Associations come with covenants, conditions, and restrictions which you should read through and approve. Many neighborhoods with HOA's also charge monthly dues. You can double-check the amount by reading the covenants, reaching out to the association board, or calling a title company.
3. Taxes
No one wants to be surprised when tax season rolls around. While real estate sites may give you a tax amount, they don't break down the details. Tax records are public, so you can visit your county assessor site to verify the amount and what tax exemptions are filed. Remember, your taxes can change drastically if you add or lose exemptions. The records will also break down if you are responsible for any special assessments.
4. Utilities
To create an accurate monthly budget, you should factor in utilities. While personal use does affect utility amounts, so does the supplying company and construction quality of a house. You can ask your agent to request information directly from the seller, or you can call utility companies. Many will give you average costs for the address.
5. Crime Statistics
For areas that you aren't personally familiar with, consider looking up the crime statistics. Several websites will allow you to review the number and types of crime in any area as well as the rate of change year to year. This knowledge can give you peace of mind and a guideline for how cautious you need to be.
6. Building Limitations
If you plan to make any changes to your property, you should check building limitations. Both cities and neighborhoods may have rules governing what is allowed on your land. This can apply to anything from garages and pole barns to fences and pools. You may also face issues if you plan to use your home for a small business headquarters.
7. Property Boundaries
Ordering a land survey is an optional part of your purchase contract. It is recommended to check where your property boundaries lie. Not only will you need a survey if you intend to put up a fence, but it will make sure you don't have any encroachments or easements. Even though they may not bother you or your current neighbor, be aware they can cause trouble in the future.
8. Flood Plains
It's a good idea to check the flood plain status of an area yourself. Your lender or homeowner's insurance company will check for you when processing your loan. By then, you will have spent time and money working towards your purchase. To stay ahead, you can visit FEMA's website or provide your lender the home address before writing an offer. If you purchase a home in a flood plain, you will need flood insurance which can be expensive.
You should do your due diligence when buying a home. The more you can research yourself, the fewer surprises there will be.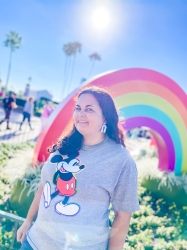 Latest posts by Krystal | Sunny Sweet Days
(see all)