Organize Your Entryway in 5 Easy Steps
Your entry way says a lot about you. Is yours obviously a catch-all space, cluttered with mail, and overrun by muddy shoes? Cleaning up this space isn't just about impressing visitors, but about making your home feel like a sanctuary for you. This is your shelter from the storm, the place you come to relax and leave the day's stress behind. It's also true that many people who come to our door only ever get this far, so make this space a reflection of you. Here's how to organize your entryway in 5 easy steps.
Clear the clutter. First thing's first, clear away any clutter. It gives the home a stressed-out vibe. If you can, choose a better location to create an organized command center for any paper clutter you accumulate. Keep anything else that often accumulates there in it's proper home, or utilize baskets to conceal what you can't get rid of.
Consider our routine. If you need to be able to reach your coat, umbrella, handbag, keys, shoes or anything else just as you exit your house, come up with creative storage solutions so that everything has it's own place. Perhaps you need a small dresser with cute knobs to stash items away, a decorative basket, or a hook for your coat. Determine what you need and look for ways to make the space functional, organized and aesthetically pleasing.
Assess the size of your space. Is your space big enough for an armoire? That might be the chicest way to keep everything you need organized, while also utilizing the space properly. If you have a small space, however, be careful not to fill it with furniture. You might need to hang hooks and shelves on the wall, instead.
Don't shy away from color. A small space is the best way to bring a pop of color into your home. Painting an accent wall isn't as big of a commitment as a large room, nor as overwhelming as that could be. If you can't paint or don't want to, think about other ways to add color, using the furniture, throw pillows on a bench, or framed art instead. Add a simple houseplant to incorporate color and transition inside from the outdoors. In general, ask yourself, "How do I want to feel when I enter my home?"
Keep it movin'. Remember that this space should be a segue to the rest of your house, so try to make it flow with the next room somehow. Don't add the kind of seating that would make people congregate in this area. Use a mirrors to encourage flow and light (These are also great for a quick teeth check on your way to a meeting!).
Freshening up this space is an easy weekend project that will make a big impact. What does your current entryway say about you?
Home Organization Tips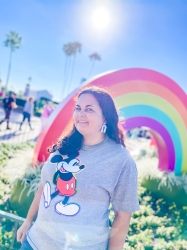 Latest posts by Krystal | Sunny Sweet Days
(see all)