Tips for Camping With Dogs
Camping is so much fun- and imagine how much fun it would be if you took your dog! If you like hiking trails and swimming in lakes with your dog, then you'd probably both enjoy camping! Camping with dogs can be a great way to enjoy the outdoors and get exercise together. It can also be a great way for your pet to experience new surrounding and play!
There are a few things to do to prepare to go camping with your furry friend to ensure that camping goes smoothly and is a great experience for everyone!
Find a Location
The first thing you'll need to do is to find a pet-friendly location! Some campgrounds allow pets while others are not pet friendly. You should always check first- rather than trying to sneak your pet onto the campground if you find it's not pet friendly!
Make a Vet Appointment
Once you've found your campground, it's time to make an appointment with your veterinarian! Your dog should be up to date on all their shots and vaccinations before heading out on any camping trips. Being in the great outdoors with your pet is fun, but a lot of different animals and insects also live in the great outdoors! Dogs can be vulnerable to several diseases spread by mosquitos or ticks. They can even catch diseases from water that other animals have bathed in or deposited waste into. Let your vet know you're planning an upcoming camping trip and ask if they have any suggestions for keeping your dog healthy during the trip!
Bring Your Paperwork
Make sure you bring your latest vaccine and license records for your dogs along with you on your camping trip. Some camping areas require rabies vaccine records- paper or electronic, so make sure you have these packed with you prior to departure! You also want to be sure to take a picture of your dog- and make sure they're wearing their collar with their tags on it at all times during the trip. You never know if your dog might be scared-or even run after a deer! Being prepared with a recent photo- and having your dog outfitted in a collar with tags will help you track down your dog should they go missing.
Prepare Your Dog
Try taking little trips with your dog ahead of time to prepare them for a longer camping trip. You might try taking them on shorter camping trips, like an overnight stay, closer to home or visiting other friends or family who are camping nearby. This can help expose your dog to camping- and also help prepare YOU for camping with your pet. Remember, never leave your dog alone while camping. There might be wild animals around- and the campground is unfamiliar territory to them. Keep them safe by staying with them while camping.
Camping Gear to Pack
Packing for your dog is just as important as packing for yourself. Here is a list of a few of the necessities you'll need for an amazing camping trip with your pet:
Dog leashes for hiking. You might several lengths- a longer length and a shorter length depending on the types of hikes you want to do. You also want to think of getting an easy to hold leash, keeping in mind you might have a lot of camping gear with you.
Dog Life vest. If you plan on going swimming with your dog, a life vest is a must have. Although most dogs can swim, you never know what water conditions will be life, so a life vest is a must for safety reasons.
First aid kit. Dogs can get cuts and scrapes just like humans! You can keep your dog's first aid kit filled with different essentials like antibiotic ointment for cuts and bandages. You can also consult with your vet on what else you might need to add to your kit.
Dog Bed. You can bring one of your dog's favorite beds with you to ensure your dog feels safe and rested while on your adventures!
Brush. A brush is very useful to help brush out your dog after a swim or to use to check for ticks after a hike.
Paw protectors. Protectors are very useful to help protect your dog's paws against hot ground, rough hiking terrain, or even cold weather.
Other good packing essentials include: dog food, *and extra dog food just in case!, dog bowls, toys, bottled water for your dog and yourself, and poop bags. It helps to keep everything organized and labeled so you don't forget anything.
Don't forget to bring along treats for your pet as well! It's also a good idea to bring along the same bowls they use everyday, so it feels familiar to them. If you think you might forget to pack them, you might buy some extras just for traveling!
Remember that camping is fun for you and your pet when everyone is prepared. Your camping trip should be just as fun for your pet as it is for you. Make sure you are prepared and you'll have fun camping with dogs. It can be an excellent experience for both of you if you plan well!
Happy camping!
Have you ever gone camping with dogs? What tips do you have?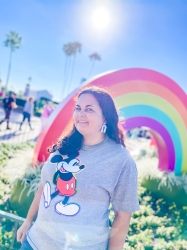 Latest posts by Krystal | Sunny Sweet Days
(see all)