Dunedin, FL Engagement Photos
I am not one to take a million pictures of myself. I have a wonky eye and a round face. I feel like I look crazy in every picture I take. It's just paranoia and self-consciousness. There are *some* pictures that exist that I like. So, taking engagement pictures was slightly terrifying! I couldn't instantly review the shot and try it again if we got it wrong like on my digital! I had a lot of fun and since it's Thoughtless Thursday…. here are my pictures. No self-conscious thoughts attached.
I thought they had creative ideas and the lighting came out pretty well. If you're local, my photographers were CSE Photography. We took them in Downtown Dunedin (which is clearly one of our favorite places ever). I was so glad to get the pictures back so fast! I have ordered my Save the Dates (a little late, but they were *free* from a contest I had won before) and a Shutterfly hardcover photo book (which was a Groupon from a month or so ago).
Was I shy and nervous during this? Yes. I'm usually not a shy person! Was I under the influence of a drink (or three)? Guilty as charged. I needed a little pick me up while we waited and when we took a break. 😉 I felt a lot better afterward. Do I feel excited and confident in CSE for our wedding pictures? Absolutely! In fact, I can't wait.
A little over four months to go… Can you believe it?
Dunedin, FL Engagement Photo Ideas
Local murals
Breweries
The park
Pier
Marker 41
Clearwater Beach Wedding
Find all my Clearwater wedding ideas and other inspiration!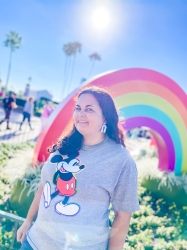 Latest posts by Krystal | Sunny Sweet Days
(see all)