Use the Three-Tier System of Organization in Your Home
If you've read every book on organization, purchased every tool and tried every strategy, but still feel like you just can't get it together, the three-tier system may be for you. Organization experts use this basic system of prioritizing as the foundation for every client they have. It doesn't take a rocket scientist to make sense of it, and it's very easy to employ. Here's how to use the three-tier system of organization in your home.
Go room to room, and break the tiers down in the following ways:
Tier One- These are the things you use daily. Your computer, your handbag, your phone charger and your cookware are all things that would fit into this category. These items need to be readily accessible and specifically designated space needs to be created for them. This should be your first priority because you need to be able to find these things to make your life easier every day.
Tier Two- These are items you use maybe once a week or even once a month. An umbrella, your printer, important documents, and some kitchen appliances might fit into this tier. These are all things that don't need to be readily available, but you shouldn't have to go on a hunt to find them, either. These items can be stored in bins, baskets, a filing cabinet or pantry. They can be out of sight, but easy to find. Label as needed.
Tier Three- These are belongings you only use occasionally, meaning a couple of times a year. Holiday decor and dinnerware meant specifically for entertaining falls into this category, as does your winter wardrobe when it's not in use. These things should be packed away, neatly stored in containers and labeled. They can live in a closet, garage, attic, basement, shed or storage unit. It's important that these things are still put in places that make sense and can be easily found when they are actually needed.
Simple, right? The three-tier system gives you a basic sense of organization and can also gets the ball rolling. You can stop at this point and know you have a pretty good grasp on things, or you can take it further. What's the easiest way to stay organized in your opinion?
Want more organizational posts? Right this way!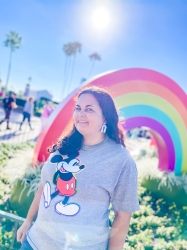 Latest posts by Krystal | Sunny Sweet Days
(see all)