How I'm Using The Happy Planner
I seriously can't get enough paper products. It's almost an addiction where I need all the colorful stickers and embellishments. When I saw The Happy Planner on clearance at Michael's ($17), I had to grab one. I have paid everything from $1 to $100 for planners over the past few years, and $17 seemed like just the right price. Though, once I started adding on all the extras… I can see how it can certainly be a little pricey. I will admit that The Happy Planner made me ditch the other planning systems I had already invested in for the new year. I was simply drawn into the colorful artwork and theme to the planner.

I purchased both an undated version (pictured above) and an undated version. I always feel like I need more than one planner. I like to have one for personal appointments and one for blog stuff, but it never really works out that way. I have the best of intentions when it comes to planning my week, but I often will just neglect one planner and use just one.
Weekly Layout

The dated Happy Planner looks like this. It has square plain boxes, and I like to add stickers to make each box something different. Sometimes it's notes, to dos, meals, water intake, etc. I also sometimes make the top box my "have tos," the middle box my "love tos," and the last box my "should dos."

The undated version is very similar with a morning, afternoon, and evening section.
The Happy Planner Extras
I added the home planner to my Happy Planner, and it includes to do lists, a budget section, a meal planning section, and notes.
me & my BIG ideas HOM-01 Create 365 The Happy Planner Home Planner

I also added in dividers to store my stickers in this section too.

These little sheets for lists are my favorite! I love adding them in (and filling them out!).
The Happy Planner Stickers

This sticker dashboard is my FAVORITE! It fits right in the front of my planner, and it is easy to use. There is a nice variety too, and the boxes are the perfect size.


The undated version came with stickers, and they were very bright and colorful!

Here's another look at the undated Happy Planner with the currently page.
Get Your Own Happy Planner

Just in case you were curious, the planner on the left is my "life and home" version with the dated planner and the home planner added in. The right one is just The Happy planner undated with no extras. Now you can see the width! I bought me & my BIG ideas RING-02 Create 365 The Happy Planner Expander Rings, Gold
to have more room for those extra pages.
What are you using this year to get organized?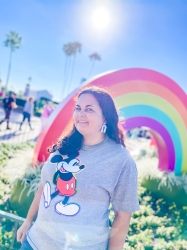 Latest posts by Krystal | Sunny Sweet Days
(see all)