The Best New Year's Resolutions Resources and Goal Setting Books
I am all about the start of a new year. I look forward to a fresh shiny new planner and a blank slate. This year is different though. I'm not feeling up for resolutions. I didn't finish my goals from last year. Instead, I'm going to take things slow and keep it simple. I will finish my goals from last year and use these strategies to get me where I want to go. Easy does it… nice and slow. Try one or several of these ideas to help you reach your goals.
Goal Setting Tips
Brainstorm with Post-Its. Gather up the biggest set of sticky notes you can find and get to work. Designate certain colors for different goals (yellow for wellness, blue for work, etc.). Use a bulletin board, whiteboard, or even a paper planner to keep them in order. Since you can mix and match and move them around, goal setting is SO flexible when you use sticky notes to keep track of all your thoughts.
Create an "Elevator Goal." As a blogger, we often are taught to memorize our elevator speech. What can we say about our business in a quick summary? Try doing this exercise for creating your BIG goal. Here's how to phrase it to get started if you feel stuck: "I am going to _____ by _____ for _____."  
Try Affirmations. I am not huge on affirmations, but they do work for some people. Here is an example of how to use affirmations to remind yourself of your daily goals.
Set an ambitious goal for the month—one that is slightly out of your comfort zone

Choose an affirmation that relates to that activity

Print it out in large letters (make an infographic of it, if you are a visual thinker, using an appropriate and striking background or template)

Pin it where it is right in your range of vision when you sit down at your desk

Say it out loud to yourself, with conviction, every time your eye falls on it

Mentally visualize achieving your goal while you do this
Visualize Your Future Success. Imagine that you are at the pinnacle of the success that you reached from your goal. What do you look like? What are you doing? Dream it up so it feels more real.
New Year Journal Printables
Brainstorm with Friends. Brainstorming with friends is the BEST! Get feedback on your goals and ideas from others in your industry too. Feel creative and let it fly over coffee or cocktails.
Look for an Accountability Partner. If it wasn't for bloggers with like-minded interests, I'm not sure I would have kept going all these years. Accountability partners, whether official or just buddies who you chat with often, can help you stick to your big dreamy goals. Look for someone who has something to offer you and someone who would benefit from your expertise as well!
Use Skype or Voxer. Since you may work online or want to boost your online business, you need to be accessible to others in your industry. I love to use Voxer which is an app on your smartphone to connect with my blog and business contacts. It's so easy to use, and I feel like we get a lot more done chatting versus emailing back and forth or sending Facebook messages.
Set Goals that Make Your Happy. Make sure as you walk through your BIG goals that they would make you happy. What inspires you to get up every morning? How can you make your goals FUN and therefore inspire happiness? Brainstorm, use your sticky notes, talk it over with an accountability partner. See what makes your heart happy and go for it!
Use a goal planner. If you're working towards a big or complex goal that necessitates multiple steps or facets, keep a goal journal. Record your progress every day. Make notes. Jot down ideas—and at least once a week, review your progress.  
Are your goals measurable? When you have a big dreamy goal and have chatted it over with an accountability partner, make sure that you can measure it in your goals planner. How can you track it? Can you mark down one small task to do each day for it? If any step along the way to a goal overwhelms you, break it down into smaller steps. Then focus on tackling one at a time.
Use SMART goals. You probably have this memorized by now, but the SMART model is an easy way to make sure your goals are going to work.
S

pecific

M

easurable

A

chievable

R

ealistic

T

imely
Make it happen. Don't be passive! Get up and make it work. If you need help, ask someone or hire someone to help you reach your goals. You don't have to do this alone!   
Ready to put this goal knowledge to the test? Find new inspiration in these books and planners to help you in the new year.
Goal Setting Books and Inspiration
My favorite inspirational writers are Gretchen Rubin, Laura Vandercamp, Jen Sincero, and Emily Ley. If you need positive thinking or quick-witted motivational sass (like Jen Sincero!), these recommendations will help you get started on your journey.
My Favorite Planners
What is your best tip for starting a new year? Do you journal or use a paper planner?
Free New Year Journal Prompts
Sign up below to grab a journal for you to start dreaming up your big new year's goals!
I'd love to hear what you have planned for the new year. What are your goals or resolutions?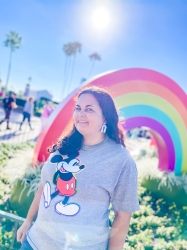 Latest posts by Krystal | Sunny Sweet Days
(see all)