10 Tips to Fancy Up Your Thanksgiving
The first guest post from one of my Bloggers Get Social participants is here! Erin of South to Southwest. Get to know Erin and learn a few tips to make your Thanksgiving holiday flawless!
If you're planning to host Thanksgiving this year, you're probably already thinking about the basics. What size turkey to get, whether you'll need to put the expanding thing-y in the table, and what sides you'll be preparing. But you may not yet be considering the details, and that's where you can make a big difference. To take your Thanksgiving to the next level, try these 10 tips!
1. Don't forget the appetizers. A nice cheese plate or a baked brie will give guests something to nibble on while they wait for the turkey to finish cooking. (The one pictured is the Kahlua Pecan Brown Sugar Baked Brie I made last year. Yes, it was as good as it looks in this photo!) Setting out appetizers also draws guests to one area, creating an easy conversation starter.
2. Have some music playing when your guests come in. We have a record player in the bar area next to our kitchen, so we usually put on some old records or let guests choose. A little background music sets a relaxing tone and drowns out the sound of you banging around in the kitchen.
3. Serve some special drinks. A nice bottle of wine will work for dinner, but beforehand you could make sangria or some Apple Cider Margaritas to get guests in the holiday spirit! If there are kids coming make a special drink for them with similar ingredients.
4. Consider the presentation of your dishes! What can you do to make it look a little more delicious? For baked brie or pies, use a Thanksgiving-themed cookie cutter to cut out a small piece of crust to decorate the top. Add some fresh herbs as a garnish for side dishes instead of just tossing in herbs from a jar. Set dishes on a nice towel or cloth, and make sure they each have a serving utensil.
5. Add a little candlelight to your space. The glow of a candle makes your home feel cozy and welcoming, and a bit more special that an ordinary time. In areas near the kitchen, stick to food-scented candles (pumpkin, vanilla, apple, etc.) so that the smells don't have to compete with the food that is cooking.
6. Put some extra touches in the bathroom. Add a basket with some extra rolls of toilet paper, a nice hand soap, some clean towels, and a lit candle. Hide away any kids' bath toys or towels if your guests will be using the kids' bathroom. You want it to feel like a space that is just for guests, at least for today.
7. Create place cards for your guests. Avoid that awkward moment where people are wandering around the table being overly polite, not wanting to take someone else's preferred seat. In addition to making the table look nice, a pre-made place card with your guests' names will make them feel welcome because it shows that you put some time and thought into creating something just for them. (If you need an idea, try Krystal's cute DIY Thanksgiving place cards!)
8. Use the good dishes. And the cloth napkins. Yes, it might be a little more effort in terms of cleaning later, but if you don't use them now, when will you? Plus, nothing ruins a fancy dinner like a paper napkin. Tie some twine around each napkin for a rustic look that's much cheaper than purchasing napkin rings.
9. Try something different for dessert. Yes, pumpkin pie is a classic, but that doesn't mean you have to do it the same old way. You could try Mini Pumpkin Cheesecakes with Gingersnap Crust, or some make-ahead Salted Caramel Cheesecake Shooters. Go even more non-traditional with a crowd-pleaser like Tres Leches cake with homemade whipped cream or make one of these coffee-themed desserts to counteract all that turkey!
10. Set up something fun for after dinner. If you already know everyone will be watching football, set out a few comfy throw blankets for guests to snuggle up in. Or encourage guests to interact more by providing some fun games like Apples to Apples, Scrabble, or the phone app Heads Up — it might even become a tradition!
You're putting a lot of work into Thanksgiving dinner, so make it count by trying a few of these ideas! What are your best tips for fancying up Thanksgiving?
Thanksgiving Tips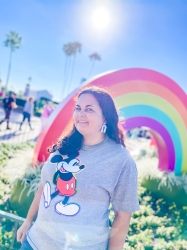 Latest posts by Krystal | Sunny Sweet Days
(see all)