6 Tips for Taming Playroom Messes
Designating a playroom for all of your kids' toys (I swear they multiply on their own!) is a fantastic way to keep the mess from spilling out into the rest of the house. But keeping the playroom itself organized and clean so that it can actually provide space for the children to play can be a headache. How can you keep it from becoming a total nightmare, wherein one day, you just go in there with a garbage bag and get rid of it all?! Here are 6 tips for taming playroom messes.
Sort and donate. Take the time to sort through the mess and find the items your kids may not even know are still in there. What don't they play with any more? What's broken? What have they outgrown? If you can slim down the amount of toys the family has to keep organized on a regular basis, keeping the playroom clean will be an easier task for all involved. Then create piles of "like" items so you can clearly see the smartest way to keep items grouped and organized.
Pack some toys away for a rainy day. Doing this will cut down on the amount of toys that have to be cleaned up every day, and also make old toys new again! There will be no more boredom if you can surprise them by pulling out a toy they had forgotten about. This also makes sense for seasonal toys and books.
Store items in easy-access containers. Kids have a hard time with lids, so ditch them. Flexible, fabric bins, are decorative, safe and easy to use.  Clear, plastic containers are also great because they can see the contents before going on a hunt for something (ie: making another unnecessary mess).
Limit the number of stuffed animals allowed into the house. It's really hard to let them go once they've become sentimental, yet they really seem to multiply. See if your children are willing to part with them, then establish a rule about not getting any more. Corral the ones that remain in a basket or hammock. You may also want to follow these instructions at Toynk to keep those stuffed animals in pristine condition. Corral the ones that remain into a basket or hammock.
Think like a teacher. Have you ever wondered how teachers keep those classrooms together while managing 20+ children on the daily? Use words, pictures or both to label everything! Attach the signs to bins and containers so that the kids know that everything has its place. Not only will they be able to clean up after themselves this way, but they'll easily be able to find what they're looking for.
Maintenance is key. Help your kids create the habits of taking only one thing out at a time and cleaning up the playroom daily. It won't become a disaster area if it's cleaned regularly. If you come up against resistance in the beginning, reduce the number of toys the kids have access to until they've become accustomed to the new system.
Want more organizational tips? Check out some of my favorite blog posts!
Kids and Organization Tips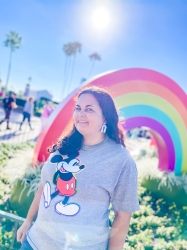 Latest posts by Krystal | Sunny Sweet Days
(see all)