4 New Activities You Could Do With Your Friends During Summer Vacation
Friends are priceless. That's why you might consider spending this summer vacation with some of your close buddies as you bond and catch up. However, it is not usual to lack ideas on activities you can engage in to spend your summer on a high note. This is especially if you have already indulged in most of the common activities and it starts to feel boring.
If you are looking to spruce up your vacation in summer with friends, you are in the right place. This piece highlights four activities you and your friends may find enjoyable for an unforgettable summer vacation experience.
1. Gel Ball Blaster Games
Gel ball is one of those games which you can play together as you keep fit. If you and your buddies want to get the most out of your Australian summer vacation, visiting Gel Ball Undercover can be a great idea. Suitable for all age groups, the competitive sporting activity involves two or several teams shooting at each other using gel blaster guns. As long as you come equipped with the right machines and supplies, the experience can be a real blast.
All you need to do is to divide yourself into two or three teams. Each person in the group should have different abilities to help you score and win the game. For safety precautions, ensure you wear the right guards to protect yourselves, especially the glasses to protect your eyes. Its main aim is to eliminate the players as you hit them with gel balls.
2. Tour Your Hometown
Summertime is always filled with exciting activities. Anyone will agree that traveling around the world can be awesome, but often also exhausting and expensive. It might sound ridiculous if you love traveling out of the country, but instead of traveling abroad this summer with friends, why not become a tourist in your own hometown?
Higher chances are that there are many places in your city or town that you've never visited. It could be the newly opened gallery, museum, mall, cafe, park, zoo, and so forth. Pop in to the new ice cream parlor while at it and indulge in a few scones of ice cream. It's relaxing and you end up saving some bucks. Some of the best vacations are spent right in your hometown.
3. Painting or Drawing
This can be very entertaining, especially for the students out there. So what's your specialty? Do you love painting or drawing? These are just some of the cool activities you can explore this summer. Get your paraphernalia ready. Get some books, pencils, paint, brushes, and paints and start doing your thing.
Moreover, you don't have to do the activity at home. You can choose a park or a botanical garden. Choose a serene environment that will help you come out with a gorgeous piece of art or painting at the end of the day. You don't have to be a pro to draw or paint either. But you can always compete amongst yourselves and see who is best placed to be the next upcoming artist.
4. Cooking
Cooking is a relaxing and rewarding activity. You get to enjoy a healthy home-cooked meal at the end of it all. It allows you to experiment and make a healthy nutritional meal for your pals and family. Truth be told, treating your friends to a meal can't be expensive. So why not do it differently this time around and invite them for a cooking activity at home?
The activity can help enrich your cooking skills as you enjoy some yummy recipes. Cooking with friends can help you prepare some of those complex meals that may have been intimidating you. You can even start a cooking club of sorts to make it even more interesting. Try the different dishes from different cultures. Request your friends to bring the main ingredients while you as the host provide all the other ingredients.
Everyone loves vacations, especially in summer. They help us break from the hustles of life and office work as we unwind and refuel our energies. A perfect holiday is best spent with friends and loved ones.
Summertime is a great time to chill out and connect with friends, as you catch up on the latest happenings. Don't close yourself indoors. If you're looking for something new to do with friends in summer, the above pointers should come in handy.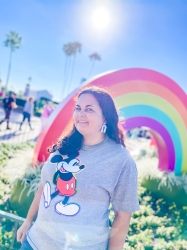 Latest posts by Krystal | Sunny Sweet Days
(see all)