How to Stay Healthy This Summer
You spend a lot of time outdoors in the summer, so it's important to nourish your body so you can enjoy these long, sunny days. You probably know to fuel up in the mornings and stay hydrated throughout the day, but there are other ways to stay healthy this summer. Each tip is a helpful hint to live a healthier life each and every day.

Take Vitamins and Supplements
These can be very beneficial when taken appropriately and regularly. Combined with a healthy eating habit, you could feel more energized or get better rest. Talk to your doctor to learn what combination of vitamins and supplements will help you feel your best. A multivitamin every morning can jumpstart your day and can help you conquer your work week.
Acknowledge the Seasons
Winter brings my body drier skin while summer can bring on allergies. It's important to acknowledge our strengths and weaknesses as the seasons pass. One important tip is to monitor your air quality within your home. We always make sure to change our air filter regularly, and we stay up to date on these tips to ensure that our summertime air quality is the best it can be.
Eat Well
Nutrition is so important as eating well, and summertime lends itself to delicious seasonal fruit and vegetables. Pile your plate high with in-season dishes such as watermelon, zucchini, and corn. We frequently use our summer evenings to grill outdoors, and we love to make corn on the cob. We also saute or bake zucchini slices (a family favorite!), and we make smoothies out of fresh fruit. Try combining strawberries, melon, and peaches for a sweet yet healthy treat.
Be sure to avoid processed food and try to grill and bake your dishes instead. Don't skip meals, and watch your caffeine intake. Enjoy iced tea or water. One tip I've picked up over the years is to infuse water overnight in mason jars. I like to pair strawberry and mint or cucumber and lemon. Fill a gallon mason jar with sliced fruits and herbs and let it set overnight in the refrigerator. It's so refreshing!
Enjoy the Weather Outside
The best part about summer is there are so many activities that you can do to stay active. Trick yourself into exercising by biking, going for a walk, swimming, or kayaking.
Get Better Sleep
With a healthier eating plan and regular exercise, you might even enjoy a better sleep. This will help you function better during the day and help you manage your stress levels. Aim for seven to nine hours of sleep a night, and be sure to turn off all electronics an hour before bedtime.
Get a Massage
Whether you destress with a back massage or massage your own feet, this simple relaxation technique can keep you feeling healthier all season long.
Make a List
Feeling too busy this summer? Schedule your summertime activities, including road trips, packing lists, and brainstorming for busy weekends. This always helps me stay focused and remember each detail of our adventures.
It's important to remind yourself that each small, healthy task you do every day can have long-lasting effects. Enjoy the summer season and stay healthy by using these ideas.
What's your best health tip this season?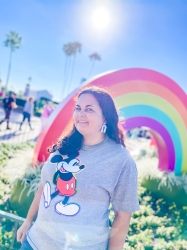 Latest posts by Krystal | Sunny Sweet Days
(see all)