Stargirl Brings Hope and Refreshes a Legacy
Hit TV show Stargirl came onto the scene in May, 2020, and introduced the youthful and energetic Courtney Whitmore to the DC Universe. Executive-produced by Geoff Johns, Stargirl stars Brec Bassinger as Courtney and brings to life the heroine of Johns' Stargirl graphic novel. Courtney Whitmore had originally appeared in the comic book, Stars and S.T.R.I.P.E., in July of 1999. Her character was a tribute to Geoff Johns' real-life sister, Courtney, who tragically died in 1996 in a Trans World Airlines plane crash when she was only 18.
A Refreshed Legacy
The Star-Spangled Kid and sidekick Stripesy were a crime-fighting duo who battled Nazism during World War II. The Star-Spangled Kid used the Cosmic Converter Belt, which he modified and adapted from the Cosmic Staff, a technology first designed by the original Starman, Ted Knight.
The season opener of Stargirl reveals that Starman was injured in an attack by the Injustice Society of America on the Justice Society of America's headquarters. As he lay dying, Starman asked his sidekick, Stripesy, to keep the Cosmic Staff safe until he could find a worthy successor and rebuild the JSA. Stripesy later becomes Courtney's stepdad, and Courtney finds the Cosmic Staff in her basement. Unaware of the staff's powers, Courtney uses it when attacked by Brainwave and has to be saved by her stepdad using his special suit of armor. Out of that encounter came the refreshed, crime-fighting duo of Stargirl and Stripesy.
Cosmic Staff
The Cosmic Staff, which becomes attuned to the aura of the wielder, absorbs stellar energy and converts it into a great force that gives the wielder a wide range of abilities. The wielder can manipulate gravity, which enables the ability to fly. The staff can attract or repel living objects, create dense force fields, project energy blasts, absorb electricity and melt steel.
With her new sidekick/stepdad, and armed with the Cosmic staff, Courtney turns from high-schooler to superhero and reconstitutes the Justice Society of America with peers and friends. They then set out to right wrongs and oppose the Injustice Society of America.
The show's first season premiered on the streaming service DC Universe and included 13 episodes. The CW picked up and renewed the series for a second season which is expected to be released sometime in the summer or fall of 2021. Season 2 will air exclusively on the CW and CW digital platforms going forward.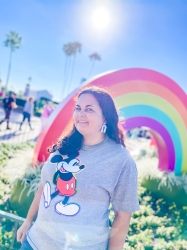 Latest posts by Krystal | Sunny Sweet Days
(see all)