Our Top 10 Stan Lee Cameos in the Marvel Extended Universe
Stan Lee will always be a superhero in his own right.
Lee was a special guest at this year's Mega-Con in Tampa. All of the proceeds from his appearance went to help out victims of Hurricane Irma, which laid waste to South Florida just a few weeks earlier.
It was only fitting that Cannon and I got to pose with Stan Lee while dressed as Spider-Man and Iron Man, two of his most famous creations. We weren't supposed to talk with him during the photo op but as a native Floridian who spent a good deal of time living at ground zero for the hurricane's destruction, I had to tell him how appreciative I was for him helping out my state.
"Why you're very welcome, Mr. Stark. It's my pleasure," he said before saying hi to Cannon.
It just reaffirmed that Stan Lee is the coolest person on the planet. As if his omnipresence in the Marvel Universe wasn't reason enough.
Here are 10 more reasons why Stan Lee is a true hero without a cape:
10. Iron Man

One of the reasons Stan Lee's random appearances are part of my favorite parts of any Marvel movie is that he always reminds me of my own grandfather. My Grandpa was also a dirty old man who knew how to make me laugh.
9. Fantastic 4: Rise of the Silver Surfer

In a movie that features a pre-Cap Chris Evans and Jessica Alba in tight spandex, Stan Lee's cameo in which he plays himself –or maybe he's playing Hugh Hefner trying to impersonate Stan Lee? — is the best part of the movie. You probably never saw this scene in the movie since nobody actually watched this movie. That explains why the only clip I could find was from someone's shaky cell phone video.
8. Spider-Man: Homecoming

This one makes the list because it is my son's favorite Stan Lee appearance in a movie featuring his favorite character. For weeks after seeing the movie, he would scream at the dogs downstairs when they were barking out the windows, "Don't make me come down there, you punks!"
7. Mallrats

I know this one is sort of cheating since it is from Kevin Smith's Mallrats but Stan Lee making jokes about superhero sex organs and having even better moves than Stone's frontman, Mick Jagger, is funny no matter what universe it is from.
6. LEGO: Marvel's Avengers

Again this might be cheating a little bit since it is from a video game set in a world made of LEGO blocks but as someone who had to slog through this game for hours with my kid so that we could beat every level, unlock every character and get every achievement, the Stan Lee cameos were the best Easter eggs in the game. They were even better — and funnier– than the Deadpool drop-ins.
5. Guardians of the Galaxy: Vol. 2

Despite not being able to officially call him Uatu because of whoever currently owns the movie rights to The Fantastic Four, Stan Lee is the Watcher, a member an ancient race of immortals only show up personally to monitor key events in history. The theory was kind of a tongue-in-cheek joke in the MCU until this scene gave it a little wink.
4. The Simpsons

Along with rescuing random children from falling debris, Stan turning into the Hulk has been a recurring theme in many of his cameos, like when he drank the Hulk-tainted soda or his special power in the LEGO games. It's even become a joke within a joke within a joke and this Simpsons episode was one of the first to pick up on that joke.
3. Avengers: Age of Ultron
This is one of the funnier scenes in the entire movie and Stan Lee, wasted on other worldy booze, drunkenly slurring his catchphrase "excelsior" was the perfect punchline.
2. Captain America: Civil War
Stan Lee cameos tend to lend the right amount of levity in whatever situation. His search for "Tony Stank" while a semi-paralyzed Rhodey struggles to walk again was a perfect example. Yes, Stan Lee, thank you for that.
1.Deadpool
Stan Lee and Deadpool.
What do you think? Did I miss one? See every Stan Lee cameo, including the cartoons, here:

Love Marvel? Try this Captain America inspired bomb pop drink!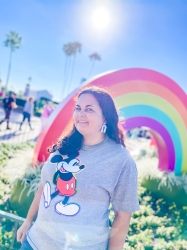 Latest posts by Krystal | Sunny Sweet Days
(see all)