Palm Tree Paradise: Tradewinds | St. Pete Beach Hotels
As a family of multigenerational Floridians who have lived their entire lives in the places, we sometimes take it for granted that the place that people come to vacation is the place that we call home. Yes, it may be paradise but for us, it's our everyday. Quite honestly, it can even get a little boring.
Which is why we were excited when Tradewinds Island Grand Resort on St. Pete Beach invited us out to see our own backyard from a new perspective. As their guests, we got to see their resort from the eyes of a tourist. It didn't take long to remind us that we live in a palm tree-laden paradise.
Billed as a 20-acre "beachfront playground," we were able to take in a little of everything that the largest resort on St. Pete Beach had to offer. Of course, the centerpiece of all of it is is the white sand, private beach along the shores of the Gulf of Mexico. Even if we had done nothing but sit in our private cabana just yards from the breaking surf, the experience would have been memorable.
If just looking at the scenery isn't enough, the resort offers several ways to take full advantage of the warm aquamarine waters with stand-up paddleboard and kayak rentals, and if you are feeling really adventurous wave runner and parasailing trips. For additional fees, you can even book a fishing or dive charter directly through the resort.
If being adventurous isn't your thing, you can check out a floating cabana and have yourself some "me" time anchored up away from the rest of the bustle. There's even a 15,750-square-foot floating adventure park with slides and trampolines. All those things are available before you even venture far beyond the high-water mark.
Once we're firmly back on dry land, we tried out all the beachside adventures, which ended up being the favorite activities for our six-year-old son. The first thing to grab your attention is the 200-foot inflatable "High Tide Water Slide" with its three-story drop.
After the slide, we rode "Bucky" the rodeo shark, where we got tossed off in grand fashion a couple of times. We followed that up with the Guy Harvey Wipeout surfing simulator. It became a competition to see who could stay on our boards the longest. I had to do it so many times that my hamstrings burned. It was time for a break.
Fortunately, the resort had us covered with an assortment of outdoor bars that served frosty adult beverages. We sipped on some daiquiris while enjoying the shaded lounge areas and playing the strangely addictive ring-hook game. After some more cooling off in the misting fans, we were ready to continue our exploration, including touring the seven different pools that cater to whatever activities you are looking forward to — including an adults-only option.
Of course, all that activity was a lot to take in for our son, so we retreated back to one of the resort's suites. The spacious rooms are all just steps away from the pool and, best of all, offer some nice cold air conditioning to cool off. We toured the Poolview Hibiscus Suites, which were roomy with a view!
One of the best parts is, that if you are a local like us, you can take advantage of most of the amenities even if you aren't staying at the resort overnight. Just purchase a Day Pass, which starts at $45.
So the next time you get a little jaded about living in paradise and need a reminder why so many people come here for vacation, plan a trip to the TradeWinds Grand Resort. Because sometimes we forget how much fun our own backyard can be.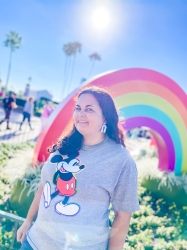 Latest posts by Krystal | Sunny Sweet Days
(see all)