I am probably the worst when it comes to clipping coupons and meal planning lately. I used to have it all together, but things have swung out of control. I dream of having my life back together in 2015, but until then, I'm go-go-go. I still won't shop without a coupon or buy a big ticket item without a sale, but there are some things I've figured out along the way to help save money without a lot of time. While I wish I still used my coupon binder and had time to match up the sales, I have nothing left after caring for my son, tending to this blog, and launching a new business. And, the act of couponing has dramatically changed since the days of sorting through ads in the Sunday paper. My husband even WORKS for a newspaper, and I sometimes forget to pick up a Sunday edition. Some people still enjoy sorting and clipping coupons, but mobile coupons are on the rise. Since many people have smartphones, it seems to be a no-brainer to have more of a selection of mobile coupons available to shoppers.
So, before you hit the road, consider these tips to save money on the go!
Plan ahead. The simplest way to save money is to think ahead to the next month. I've been running around like crazy trying to plan for a Halloween party this week, and if I had thought about this last month things would have been a lot easier. Try to shop for at least two weeks at a time so that your basic pantry supplies are always in stock in your home. When you're out and about, you won't have to worry about running to the grocery store to buy things you may not need or aren't on sale.
Make a list. Keep a running tally of things you need in an easy to access area, like a memo pad on your fridge or in your planner. I like my husband to add things he needs as he remembers them, so our list is out in the open in our kitchen. When I am heading out to run errands, I tear off the current list and add it to my bag.
Use a cute clutch to carry your shopping essentials. Yes, I have a separate clutch to keep together my shopping money, my shopping list, and any coupons I might have for the week. If I'm heading out, I know to always take my special bag with me. It has become habit so I never forget it! If I don't have my clutch, I don't go shopping. Easy as that.
Shop on sale days. I have a Google Calendar update to remind me when the sales shift at my local grocery store. I always forget that it's THURSDAY, so at 9 a.m. I get a reminder. I like to grocery shop on the first day of sales just in case things sell out.
Download the Money Mailer app to save money. Before you can begin reaping the benefits of mobile couponing, you must first download apps. There are scores of smartphone coupons apps available for your phone, but not every app applies to every shopper. Consider downloading a universal app that has offerings that span multiple industries. For example, the Money Mailer app spans categories such as automotive, beauty, dining, entertainment, groceries, health and fitness, home and garden, professional, services, etc. In just two quick finger taps, you can retrieve local coupons. To download the Money Mailer Coupons application, visit the iPhone App Store or the Google Play Store and search for Money Mailer. Kalyn of Creative Savings suggests downloading apps BEFORE you hit the supermarkets. Not only can you use too much data trying to get the apps from the store, but I know I have a problem accessing my wireless network in some busy mega-markets.
Have your smartphone pulled out and ready while you're waiting in the checkout lane so you can just have the cashier scan the barcode or mobile coupon. I hate it when people are rifling through their purses and holding up the line. – Kalyn of Creative Savings
Try cash back rebates. While Money Mailer allows you to use mobile coupons, there are a few apps that can provide cash back on groceries and other necessities. Ibotta, Checkout 51, Jingit, and Snap are all examples of tools that you can also use while you're on the go. My best tip for using these apps? Cash in your purchases right away! I seriously unload my cart into my car one bag at a time while scanning purchases for Ibotta. I then photography my receipt immediately from my car so I don't get home and forget. Checkout 51 also has offers that "sell out" so to speak, so it's best to cash in as soon as you can!
Track your spending with Mint.com. Out and about? Don't blow your grocery budget without checking your finances on Mint. It's an easy to use tool on your computer or mobile device to let you know just how much you've spent lately. You can categorize your spending and track it. Already spent your allotted grocery budget? Find ways to shop your pantry or find money-saving coupons to bring down your total.
Take advantage of SMS (Short Message Service) offers. Many mobile coupon users also report that coupons via text are a great resource for saving money. By specifically opting in to the retailers where you shop most, you'll be able receive automatic texts with relevant coupons whenever they become available.
Pack snacks. If you know you're heading out for a marathon shopping spree, the worst thing to do is arrive hungry. Pack a granola bar and a bottle of water for the trip. Skip the drive-thru and never shop on an empty stomach!
 Shop early (or late). I skip the crowds by shopping early in the morning or later in the evening. This way I'm not "pressured" into buying anything I might not need while I wait in a painfully long line. Armed with my smartphone savings, my shopping list, and a full stomach, this is the best way I can be efficient while on the go shopping!
What's your best tip to save money while you're out and about?
P.S. Did you know moms are twice as likely to search for coupons online as compared to other women?
Read more money saving tips:
Tips to Save Money Groceries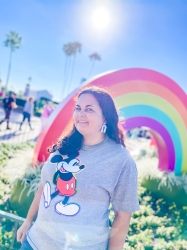 Latest posts by Krystal | Sunny Sweet Days
(see all)