So, I did this neat little thing last week with fellow blogger Jen. We drank and painted and pretended to be real artists. Anyway, she updated her blog with this post and I thought it was hilarious. So hilarious in fact, that there is no way I can recap the event without directly stealing her quotes. Instead, I asked if she would volunteer her post to be one of my first guest bloggers! She agreed to "guest post" and here are her thoughts on our painting party.
-*-*-
I work* (disclaimer below) all day and after, I feel like doing nothing. I don't like going to the grocery store after work. I don't like going to the post office after work. I don't like visiting people after work. I don't get gas after work, even if my car flashed at me that it was empty on the way home. About the only things I enjoy doing after work are going to the movies, attending the occasional happy hour, picking up or making dinner, watching our favorite TV shows, laying in my underwear and tank top….until another Groupon event came up! Turns out, I enjoy painting and drinking (simultaneously) after work too.As mentioned, I'm hesitant to do almost anything after work. I vegetate until about midnight and then I decide to try to sleep (you know, because I have work* in the morning and all). Originally, I had plans with Krystal and Jackie to attend our Groupon night on a Friday after work, but someone (AHEM!…Krystal…cough…cough…teehee I totally just threw you under the bus) forgot and bought tickets to the Gasparilla Film Festival in Tampa (she can't be blamed- we made these plans almost a month prior and none of us had remembered, really. Besides, the film festival looked pretty fun! You can read that post here). Incidentally, Fridays are my only exception to the I-don't-want-to-do-anything-after-work feeling.
So, we rescheduled for a Monday. Normally, I don't do anything on Mondays because if I stay out late that day, my whole week is shot! However, between my school and my friend Jackie's early work schedule, Monday was really the only available day, and I ended up not regretting my time spent there at all!
Enter: Sketch and Sip. Another Groupon deal that I snatched up because it involved painting and drinking and being the worst painter ever, I couldn't pass up the opportunity to laugh at myself and my friends. For $20, we received all of the materials we needed to paint (it came with a 16×20 canvas!) as well as snacks and cups and ice for our beverages. Obviously, we got to take the painting home too. The only thing that wasn't provided were the drinks!
We went by Chick-Fil-A before the class so I thought I'd be cool and poor my first beer into my cup so I could start drinking in the parking lot before we went inside. I selected Woodchuck Pear.

Krystal is sooo serious about her painting. Look at her in the background while I'm gulping down my drink. My favorite quote of the evening is from her, "I feel like a real artist. I have my hair pulled back and everything." LOLZ so hard.Turns out there were some cancellations so we were the only 3 taking the class this night! The class is set up so the instructor takes you step-by-step through the painting and then walks around to assist and give you pointers. Let's begin with our smocks!
Aside from the pouring of a new drink and the acquisition of many mini Snickers bars from the table in the corner, we sat at our stations the whole time and watched our paintings come to life!

We started with painting the wine bottles, which was harder than we thought it would be. We couldn't get the lines straight! Being the perfectionist I am, I insisted on continuing to work to get them as straight as possible, even though the instructor said we'd be going over them all anyway and would have the chance to make any changes.

And before we knew it, our paintings were complete!

I have to say, we were all so proud of ourselves. Being of no artistic talent, we were all sure we'd be big rejects and make our instructor so frustrated. But, we joked with her, she loved us and told us we did good and I think we did! There were definitely times when we were laughing so hard at each other's paintings, Krystal was snorting at herself, and we were concentrated more on opening the wine and beer bottles more than anything else, but the event was so much fun and we plan on going back again!

Of course, I couldn't resist taking a picture in the car on the way home and texting it to my mom who replied with, "What is that supposed to be?". I swear, some people just don't know ART!
*My work is defined as answering an average of 1 phone call per day, browsing the internet, taking catnaps, watching movies and TV shows, reading my book, doing homework, doodling, participating in various social media outlets, relaxing outside by the bay, laying on the couch in the back office, etc. And yes, this is all done in an actual office that isn't my home.
Things to Do in Tampa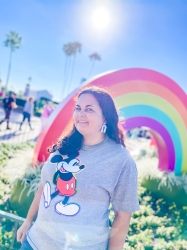 Latest posts by Krystal | Sunny Sweet Days
(see all)