All the Kings Wives: A Review of Six the Musical
I received two tickets to SIX the Musical through a partnership with the Tampa Bay Bloggers and the Straz Center for the purpose of this review. All opinions are my own.
If you're a fan of history, Broadway musicals, or both, then you'll want to check out SIX. This show tells the story of Henry VIII and his six wives through the lens of modern pop music. It's an absolute blast, and I highly recommend it. I was SO excited to receive tickets to review this event from the Straz Theater, and if you're in Tampa, you can see it NOW through Sunday, November 6th!
SIX is an absolute joy to watch. This musical tells the story of the six wives of Henry VIII: Catherine of Aragon, Anne Boleyn, Jane Seymour, Anne of Cleves, Catherine Howard, and Catherine Parr. The music is catchy and will stay stuck in your head for days; the costumes are gorgeous, and the actresses playing the wives are all phenomenal. They all brought so much life and energy to their performances!
The show opens with each wife taking a turn singing about herself. We learn a little bit about each woman's background, her relationship to Henry, and how she met her demise. While it is a little confusing at first to keep track of who is who, the clever costuming helps to distinguish each wife from the others. With a catchy soundtrack and witty lyrics, Six brings these long-dead queens back to life and allows them to tell their own stories, unapologetically and without sugarcoating their experiences. These women were more than just pawns in Henry's game; they were individuals with their own hopes, dreams, and desires. And while their fates may have been ultimately determined by the whims of a powerful man, they each fought back in their own way and left their mark on history.
If I'm being honest, there's not much I didn't like about SIX. However, I will say that it's not a show for everyone. It's very funny, but it also deals with some dark topics, including infidelity, divorce, and execution. If you're not comfortable with that kind of material, then this probably isn't the show for you!
As the show goes on, we see all six wives interacting with each other and with Henry. There was a lot of drama (and intrigue) in Henry's court! The music is catchy and upbeat, and the whole cast does a great job of bringing these historical figures to life. If you're a history buff (or even if you're not), "Six" is definitely worth checking out. The concept is unique and well-executed, and the music is sure to get stuck in your head long after the curtain falls.
I love when there are specialty drinks, and I definitely tried this delicious pink gin drink! This is the Rose With No Thorns which is rose and strawberry gin, blood orange, sour mix, and tonic! It's a Six-inspired cocktail, and I want to make it myself at home.
While they may have lived centuries ago, the six wives of Henry VIII have surprisingly relevant stories to tell. If you're looking for a fun night out at the theater, be sure to check out Six! You'll laugh, you'll cry, and you'll definitely be singing along by the end.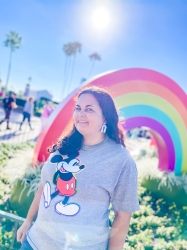 Latest posts by Krystal | Sunny Sweet Days
(see all)