Simple Summertime Meal Prep With Your Kids
This post was sponsored by the National 4-H Council as part of an Influencer Activation for Influence Central and all opinions expressed in my post are my own.
Planning ahead can make your busy days a little more enjoyable, especially when you are meal planning nutritious dishes. You will also save money by avoiding take out, drive-throughs, and last-minute runs to the grocery store for whatever is ready to consume. Healthy lunches can perk you up and give you energy, and your children will enjoy helping you get these meals prepped and ready to go. Here are a few simple summer lunch ideas inspired by 4-H Food Smart Families which creates more food secure homes by teaching families how to plan, shop and prepare healthy meals on a budget.
Simple Summer Lunch Ideas
Make simple lunch bowls. A good way to prepare planned lunches is to combine a protein, vegetable, and a carb so that you can ensure you are getting a balanced meal. Good proteins to choose from include eggs, chicken, steak, fish, or even tofu. My little one LOVES hard-boiled eggs so it is a no-brainer for us to use them when we can on salads or for quick lunches on the go.
A good idea for lunch vegetables includes broccoli, cauliflower, snow peas, lettuce, zucchini, and corn. Carb choices include potatoes, brown rice, and quinoa. Imagine all the fun lunch ideas you can create if you mix and match those ingredients!
Create a mason jar salad. These are simple and little ones love to help! Try using romaine lettuce, chicken, corn, black beans, tomatoes, and your favorite dressing. Since it is prepared in a mason jar, it stays fresh and is easy to eat at lunchtime. You can also try adding a bit of sweetness to your meal with fruit! Mandarin oranges and strawberries are a fun addition, especially for summer. Nuts like walnuts and pecans can add crunch and texture too.
My son loves to help in the kitchen when he can, and it is important for me to make sure that he is eating when he needs to and making healthy choices as often as possible. Nearly 16 million children don't have that luxury and live in households that are food insecure. This means that they don't have consistent access to food throughout the year. 4-H Smart Families creates more food secure homes by teaching families how to plan, shop, and prepare healthy meals on a budget. Since 2011, UnitedHealthcare and 4-H have partnered together to deliver healthy living programs to more than 340,000 youth and their families in 14 states.
The Food Smart Families program incorporates an effective 4-H Teens as Teachers model. This leverages the proven influence of young people by engaging teens to empower their peers and families today and to help establish healthy habits for their families and communities. I was excited to see that more than 400 youth have trained to be Teens as Teachers to serve as role models and mentors, educating younger youth and empowering their parents and families to shop better.
As my son gets older, I hope to share these messages with him so that he can develop his own sense of self and learn how to prepare food with us in a healthy way.
Other Lunch Ideas For Summer
Try wraps. Flour tortillas are a good choice for a healthy wrap. Try using rice, chicken, quinoa, and healthy vegetables as a way to make a filling lunch idea. You can also make several of these in advance and enjoy them throughout the week.
Don't forget about sandwiches! You can prepare them ahead of time and use healthy ingredients like tomato, hummus, and spinach. You could also enjoy chicken salad on whole grain bread as another lunchtime option.
Lunches don't have to be boring this summer! Engage your children and make these options ahead of time for easy meal preparation. They are simple and flavorful, and they are healthier than other options.
What is your favorite summertime lunch option?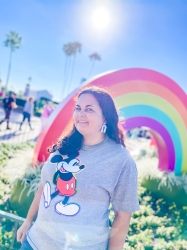 Latest posts by Krystal | Sunny Sweet Days
(see all)