Plan Your Trip to SeaWorld Orlando
Thanks to SeaWorld Orlando and Tripster for providing my family with a weekend getaway! This post was originally published in 2015 and republished and edited with new attractions.
SeaWorld Orlando has so much to offer visitors of any age. Whether you are interested in animal encounters, the Aquatica water park, or all of the amazing attractions at SeaWorld, there is something for everyone in the family. Not to mention the restaurants and wonderful animal shows. This is a park where you can ride a thrilling roller coaster before seeing penguins, dolphins, and many more amazing sea creatures up close and personal. The whole family will enjoy your time at this amazing park as you create memories that will last a lifetime. Use this guide to SeaWorld Orlando to plan the perfect trip for you and your family.
I have lived in Florida my entire life, but I had yet to fully experience SeaWorld Orlando. In fact, there was a time when I even LIVED in Orlando! I am not sure why I held back on attending, but now I am fully committed to making sure my family visits at least seasonally since there is so much to do. With guidance from Tripster, we were able to enjoy booking services, lodging, and SeaWorld adventures that we will remember forever. Keep reading to enter to win to experience your own real and amazing trip!

To get started, Tripster helped us secure tickets and booked experiences for us. Tripster is your best planning choice for complete destination planning and booking. With 16 destinations across the US and expanding, Tripster aims to offer the best prices on regional attractions and hotels and insight and tips to enhance your trip. SeaWorld is a top attraction on Tripster's destination website, and as trusted SeaWorld partner, Tripster seeks to celebrate all the truly Real and Amazing aspects of the park. Here are my must-do activities for your own SeaWorld trip!
10 Must-Do Activities at SeaWorld
Use extras like quick queue and reserved seating with help from Tripster: When you visit SeaWorld Orlando's Information and Reservations Counter when you arrive, you can make sure that all of your must-do activities are planned and ready to go!
Sign Up For a Behind the Scenes Tour: This behind-the-scenes tour, lasting approximately 75 minutes, will explain how animal care experts care for rescued manatees and sea turtles.


You will also touch a shark and interact with a penguin! These were clearly our favorite parts of the tour. We loved our tour guide, and we found that since there was a bus to transport us from one side of the park to the other, that it was an amazing way to get off our feet and relax!
Meet a dolphin: The dolphin encounter is an affordable option to experience a quick dolphin interaction. Again, even though we are native Floridians, this is not something that we get to experience!

We also learned how the animal team takes care of these amazing mammals and had the opportunity to touch the dolphins. Since cameras are not permitted on this experience, I don't have any photos to share, but I promise it was really fun! The photo above is from another area in the park (Dolphin Nursery).
Ride the trio of roller coasters: Which one will be your favorite… Mako, Manta, or Kraken!? Mako is Orlando's tallest, fastest and longest roller coaster while Manta is the only flying roller coaster of its kind in the world.
Have a pretzel at Mama's Pretzel Kitchen: Why, yes, this should be on your list! Tired parents can relax with a craft beer and a bacon cheddar pretzel while kiddos enjoy Shamu's Happy Harbor next door. It's also a great place to wait before catching the One Ocean show since it is located right across from the arena.
Don't Forget Sesame Street (Previously Shamu's Happy Harbor): With lots of seating for parents to watch their children play, this was a surprise highlight of our visit. Our son loved the variety of kid-friendly rides! This area was updated within the last few years, and is now a haven for Sesame Street fans! There's a daily parade, store, and meet and greet opportunities.
One Ocean Show: The all-new Shamu show, One Ocean, is incredible! We learned about the thrilling animals and ecosystems under the sea, marveled at the dancing fountains and colors, and felt the energy throughout the entire show. Other great shows that we saw were Pets Ahoy, Blue Horizons, and Sea Lion High.
Enjoy seasonal attractions: Since Christmas is here, our local SeaWorld was decked out with holiday trees, lights, and special events. SeaWorld frequently changes their event calendar with fun events for the holidays, so be sure to check it out. It makes it an exciting visit every time you go since there is always something new to see.
Explore the Aquariums and Rescue Areas: Nearly every attraction has special aquariums, and there are several animal rescue areas that you can visit too. These quick attractions can show you a side of the park you may miss if you are just doing rides and shows. Sea Garden offers close-up encounters with amazing animal friends and learn how SeaWorld cares for the natural world at the all-new SEA Garden. Completely re-designed, the SEA Garden is where guests can learn more about SeaWorld's animals, many of them rescued, including eagles, spoonbills, opossums, and more.
Plan Your SeaWorld Trip
Address: 7007 SeaWorld Drive, Orlando, FL 32821
Hours: Monday – Wednesday: 10 am – 6 pm
Thursday – Friday: 10 am – 8 pm
Saturday: 9 am – 10 pm
Sunday: 9 am – 9 pm
Cost: Single Day Ticket – $89.99
Tickets
Single Day Ticket + All Day Dining Plan – $124.98
Two Park Ticket – $118.99
Two Park Ticket + All Day Dining Plan – $168.99
There are several ticket options for SeaWorld Orlando. A Single Day Ticket is $89.99. Tickets purchased for a specific date can only be used on that date. For an extra $35, you can add an All Day Dining Pass to your ticket for a total of $124.98.
All Day Dining Passes include 1 entree, 1 side or 1 dessert + 1 regular sized beverage (non-alcohol), you can go through the line up to once per hour. This is good for the entire day until 30 minutes before the park closes. A photo ID is required when redeeming All Day Dining Passes and only the person listed on the pass can redeem.
Two Park Tickets are also available for $118.99. Participating parks include SeaWorld Orlando, Aquatica Orlando, Busch Gardens Tampa, and Adventure Island. For an extra $25 you can add the All Day Dining Pass for a total of $168.99.
Parking At SeaWorld Orlando
SeaWorld Orlando offers both general and preferred parking. This is one reason to have an annual pass that includes free parking (not all pass levels have free parking, research before you buy). Parking can be quite expensive if you visit more than one day, so consider your options for tickets.
General Parking – $25 per day
Preferred Parking – $30 per day
Where To Stay At SeaWorld Orlando
Have a comfy hotel to come home to: Tripster made it easy to find lodging in Orlando at the Holiday Inn-Waterpark location.
Talk about a view! This hotel offers only suites, so there is plenty of room for families of all sizes. The tropical interior decor was relaxing, and the service was top-notch. On our first night stay, we were greeted with a sweet treat of cookies and milk. 😉

This location made everything easy with a breakfast buffet on-site, an arcade, a super sweet 4D theater for movies and a laser game, and several restaurants for coffee, pizza, and more. No need to leave the property to seek delicious food or treats. Everything was right here!
Other locations in the area that you may want to research:
Renaissance Orlando SeaWorld
6678 Sea Harbor Drive, Orlando, FL 32821
Drive Time: 10 minutes
Walk Time: 8 minutes
The Renaissance Orlando SeaWorld is a great base for your trip to the SeaWorld parks. Enjoy the spacious rooms and find yourself completely relaxed poolside. The kids can play in the Splash Zone while you sip amazing frozen cocktails. There are 5 dining options onsite that are sure to leave the whole family happy. The Renaissance also has a full-service spa to help you relax after long days at the park. If you are looking for luxury and amenities in Orlando, then this is the perfect place for you.
Hilton Garden Inn Orlando at SeaWorld
6805 Westwood Blvd, Orlando, FL 32821
Drive Time: 10 minutes
Walk Time: 12 minutes
The Hilton Garden Inn is located just across the street from the SeaWorld Orlando entrance. The 224 guest rooms at the hotel offer large rooms, free wifi, and the choice of king or two queen beds. The onsite Garden Grill serves a delicious breakfast buffet, perfect for grabbing a bite before heading to SeaWorld. In the evening adults can unwind in Sting Ray's Lounge for happy hour and light bites. This is a great option for those wanting a base close to the park.
TownePlace Suites Orlando at SeaWorld
10731 International Drive, Orlando, FL 32821
Drive Time: 12 minutes
Walk Time: 20 minutes
The TownePlace is great for families, solo travelers, and couples looking for a romantic escape. The 188-room hotel has a relaxing atmosphere, complete with tranquil coastal touches. The smart TVs in each room offer Pandora, Netflix, Hulu, and YouTube for your entertainment. The free hot breakfast will help you fuel up before a day spent at SeaWorld. After a long day in the park, you can unwind at the poolside Reflections Bar. Free shuttle service to the park is available, as well as special discounts for shopping and dining at SeaWorld. 
When Should We Go To SeaWorld Orlando?
The best time of year to visit SeaWorld Orlando is mid-January to mid-February. The weather is amazing and both the hotel prices and ticket prices are lower. Another good time is September through early November.
However, the Seven Seas Food Festival runs through the spring, and is SO much fun! There are nationally known bands and delicious food booths. It's definitely a highlight of the park. Summer also boasts an Electric Ocean celebration which can bring crowds, but it is worth it for the experience.
Security At SeaWorld
Security at SeaWorld keeps all guests as safe as possible during their visit. For that reason, all bags and backpacks are subject to inspection. You cannot bring weapons, glass bottles, sharp objects, cans, straws, coolers, or any hazardous materials in the park. No outside food, beverages, or cooler of any size are permitted in the park. Glass bottles, straws, and cans are not permitted in the park. You can bring a refillable water bottle. 
Smoking is permitted but only at designated locations.
Children under 2 years of age or younger get into SeaWorld Orlando for free.
Rides and Attractions At SeaWorld Orlando
Ice Breaker *NEW*
The brand new Ice Breaker coaster has Florida's steepest beyond vertical drop. This is SeaWorld's first launch coaster and even features a reverse launch! You'll experience exciting twists and turns on this thrilling coaster that is anything but chill. The height requirement for Ice Breaker is 48 inches.
Mako
The Mako coaster was rated #1 Best Roller Coaster by the readers of USA Today in 2021. This extreme coaster is the tallest and fastest in Orlando. Named after one of the fastest sharks in the ocean, Mako reaches speeds of 73 mph. The height requirement is 54 inches for this wild and thrilling ride.
Super Grover's Box Car Derby
The furry superhero Grover will show you a racing good time on this family-friendly coaster. The perfect first roller coaster experience for kids is Super Groover's Box Car Derby. It's packed with fun hills, mini dips, and exciting turns for a thrilling experience for the kids. The minimum height is 38 inches. 
Cookie Drop
On the Cookie Monster's Cookie Drop you'll be carried away just like a cookie crumb! This family-friendly ride is a small drop tower that will have you giggling in no time. The minimum height requirement for Cookie Drop is 42 inches.
Live Presentations and Shows
Dolphin Adventure *NEW*: This brand new presentation explores the incredible world of the bottlenose dolphin, the well-known ambassador of SeaWorld. Share their story in this lively new presentation at Dolphin Stadium. 
Sea Lion and Otter Spotlight *NEW*: You'll find this brand new show at the Pacific Point Marine Conservation Center. Enjoy as you discover more about the fascinating lives of California Sea Lions and Asian Otters. You'll learn about their skills, characteristics, and behaviors in this show spotlighting these amazing animals. 
Dolphin Nursery: At the Dolphin Nursery, you can watch as mothers and their calves navigate the waters of SeaWorld. Newborn dolphins and their mothers stay in the nursery until they are able to fend for themselves. This is a spectacular place to introduce kids to the beauty of life. 
Animal Encounters At SeaWorld Orlando
Beluga Encounter, $60.00 per person: The beluga whale is undoubtedly one of the coolest animals at SeaWorld! In this encounter, you will take part in a training session. You'll also learn about the spectacular beluga as you see how they are cared for on this 30-minute walking tour. You can book the Beluga Encounter here. 
Sea Lion Up-Close Tour, $45.00 per person: On this Up-Close Tour you'll get to meet a friendly sea lion! Not only will you have a photo opportunity, but you'll also take part in feeding at the Pacific Point Preserve. Sea lions are famously goofy and this encounter will be tons of fun! You can book a Sea Lion Up Close Tour here. 
Dolphin Up-Close Tour, $50 per person: This 30-minute hands-on tour shows you just what it takes to be a dolphin care specialist at SeaWorld. You'll have your picture taken with a dolphin and help the specialist in a training session with a family of dolphins. In the end, you'll practice what you've learned and get the dolphins to perform some tricks. You can book a Dolphin Up-Close Tour here. 
Dining At SeaWorld
Altitude Burgers *NEW*: At Altitude Burgers, you can sink your teeth into big juicy burgers, as well as delicious grilled chicken. For those looking for classic theme park staples, you'll also find pizza and refreshing beer on tap. If you need to refuel after exploring the park, this is the perfect spot for you! Altitude Burgers is part of the All Day Dining Plan. 
Glacier Bar *NEW*: In this brand new bar you can catch all the sports action while enjoying seasonal beers, cocktails, frozen drinks and more. You'll find this bar in the Wild Arctic, where you can take in the 360-degree views of the newest coaster, Ice Breaker. If you're hungry, you can also have small bites exclusive to Glacier Bar, including flatbreads and an adult take on an ice cream sandwich. The Glacier Bar is not part of the All Day Dining Pass. 
Aquatica Water Park
Grab your sunscreen, sunglasses, and your swimsuit and get ready to visit Aquatica Orlando! SeaWorld's waterpark is an aquatic wonderland where you can get a thrill from slides or simply relax on the sand by the wave pool. Aquatica is perfect for the whole family and will keep everyone entertained while beating the Florida heat. Themed after the lush landscapes of Australia and New Zealand, Aquatica is a can't miss attraction in Orlando!
No matter what you choose to do during your visit to SeaWorld, it will be an adventure of a lifetime for the whole family! Take part in an animal encounter to make your visit extra special!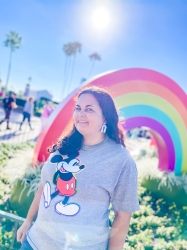 Latest posts by Krystal | Sunny Sweet Days
(see all)