Scuba Diving at the Florida Aquarium in Tampa, Florida
This post was created with TripAdvisor. Thanks for sponsoring our trip to the Florida Aquarium!
Have you ever sat and stared at your fish tank and thought, "Man, it'd cool to be a fish?" To just float around without a care in the world, blowing bubbles and watching the people stare back at you from the other side of the glass?
That's the wonderful feeling you get when you dive with sharks at The Florida Aquarium. With massive seas creatures circling all around you, you will feel like a guppy, tiny and free. The 93,000-gallon Shark Bay tank simulates an actual reef in the Dry Tortugas National Park near Key West, FL. This man-made reef is home to a wide variety of marine life like stingrays, lobsters, puffer fish, eels, and, of course, sharks.

The excursion, which starts at $129.99, is open to certified divers over 15 years of age. It is an ideal dive for both beginners and experts alike. Everything you need is provided for you, including tanks, BC, fins and full-body wetsuit. The team at the Florida Aquarium will verify all your information to have just the right equipment already set up for you. Just bring your mask, a towel and a sense of wonderment. I brought along a dive buddy but it wasn't necessary.
How to Book
We were able to easily book online with TripAdvisor. If you are traveling to the Tampa area, check TripAdvisor! There are a lot of reviews to help you plan your time here, and I spend a lot of time researching local attractions. I grew up in Florida, but there are more restaurants, hotels, and things to do popping up constantly. It helps to have all of my favorite city's research in one place. Since scuba diving with sharks at the aquarium has been on my bucket list for quite some time, I knew this would make a fun trip. There were reviews to help me pick just what type of excursion I wanted, and I felt comforted knowing TripAdvisor had my back. If anything had happened, they are a trusted brand who can help.

After a simple booking process, you arrive at the Aquarium and go through safety briefings about the equipment you will be using during the 30-minute dive. After suiting up, you enter the water just above the main observation hall where non-divers can watch you from the other side of the glass. Our first encounter was with a large nurse shark, which was napping lazily in a clearing at the bottom of the tank. This shark was completely nonplussed by our arrival and sat peacefully while we took a few pictures.

After a few minutes in this spot, spent mostly taking selfies with the members of our party who stayed dry on the other side of the glass, we moved further toward the center of the tank. It was here that we got the first close-up with the stars of the attraction– a trio of sand tiger sharks. Despite their size and ferocious looking teeth, sand tigers are extremely docile. You can tell that these sharks are accustomed to having divers in the water with them as they cruise just feet overhead. Even though these sharks are longer than you are, they pose no threat. Just in case, a dive master is never far away.

The sharks, of course, are the main draw for the dive, but it is the wealth of other species that make this experience memorable. While the sharks spend their time taking laps around the tank, it's the smaller fish that come right up to you like curious puppies. Snapper and drum dart around your head while rays, some as big around as your dinner table, buzzing just over your head. They like it when your exhaust bubbles tickle their underside. A curious tarpon and a large barracuda, with its somewhat intimidating set of fangs, followed us around from the minute we hit the water.

Overall, the diving was remarkably stress-free. No matter where you turn, you are surrounded by life. Since you only reach a depth of about 20 feet, you don't really need to worry about equalization or compression. They also use high-capacity steel tanks so you don't have to worry about using up too much air. Music is even pumped into the tank during the dive. All you have to do it is float around and feel like a guppy. Afterward, there's no gear to clean or BCD's to rinse out. They take care of everything for you. I wish every dive was this simple.

When it is all over, you will receive video and photos of the experience along with a souvenir t-shirt. Afterward, you are free to explore the 250,000 square foot facility that houses over 20,000 species of marine animals.

If you are not SCUBA certified or have younger members in your group, the Aquarium also offers a snorkeling option, starting at $99.99. This excursion can accommodate up to five swimmers at a time. No previous training or experience is necessary. Participants must be at least nine years old and be comfortable in the water. Children who are under nine years old must have a paying in-water parent or guardian participating. All Florida Aquarium dive team members are professionally trained to supervise recreational diving activities.
Want more of the Florida Aquarium?
Find out our favorite exhibits and our tips to know before you go here!
TripAdvisor is the world's largest provider of tours, activities and attractions, with more than 56,000 bookable experiences in 2,500 destinations worldwide.
TripAdvisor Attractions offers something for every kind of traveler; book everything from walking tours, skip-the- line access and theatre tickets to hot air balloon safaris and Everest base camp treks.
Are you brave enough to scuba dive with sharks?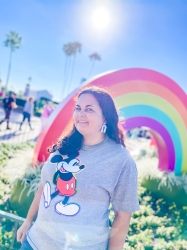 Latest posts by Krystal | Sunny Sweet Days
(see all)