Families: Cut Back On These Things Now To Save For A Summer Vacation
Ever spent the week before a family vacation scrabbling around, desperately trying to find enough money to cover its costs? Well, you are not alone! After all, raising a family is hard, and expensive, and it doesn't always leave you will lots of money left over to be squirrel away for luxuries like vacations. However, you can absolutely avoid getting into such a situation this year. In fact, if you start cutting back on the things below, you can accrue a health amount to go towards or even cover your break during the summer. Read on to find out more.
Travel costs
Most people think that reducing their travel costs means giving up their vehicles. However, there really is no need to do this. In fact, saving money in this area is more about making small changes that will add up over time.
For example, you may choose to get involved in a carpool to take the kids to school in the mornings. A topic you can read more about at sites like oponeo.co.uk. With the advantages of carpooling including cuts to your travel costs because you will only need to make a fraction of the trips.
Alternatively, even doing a little research into the cheapest places locally to get gas can add up to a massive saving over time. In fact, many gas stations also offer loyalty rewards when you use them as well. A benefit that allows you to save up such points and received even more substantial discounts. The money this saves can then be added to the vacation pot too.
Groceries – food
Next on the list of places that cut backs can be made are groceries, in particular food items. In fact, not only is excessive food waste problems for the environment, but it is costing us our hard-earned money as well. We are literally buying items for them to sit in the refrigerator (which also costs us money to run) to then be thrown away!
With that in mind, changing the way that we shop can make a massive difference. One option is to do what they do in Europe and not shop for the week, but go for a short time each day, buying only the items you need for that day. Something that can help to reduce down the amount of fresh food we purchase and then do not use.
However, with all of the promotions, and buying messages that supermarket use, this method can backfire. In fact, you can end up buying all sorts of things that you don't need, just because they seem like a good deal. A situation that will not help you build your vacation fund at all.
To that end, changing to a meal prepping and freezing system like the one suggested at lifehacker.co.uk can work a lot better. The reason for this is that you still only buy what you need, but on a larger scale. Thus keeping the price and any wasted food down.
Groceries – other
We don't just spend our money on food groceries though. In fact, there is a wealth of other things that we regularly buy, such as toiletries and cleaning products. The good news is that significant savings can be made in this area as well.
In particular, it can be helpful to cut back on your non-food grocery spend, pay a visit to the dollar store. There you'll usually find the big brand items for less than they cost in the supermarket. Although, you do need to be sure and check the special offers and coupons before you stock up for even lower prices. After all, the goal is to save as much money for your vacation as possible.
Gifts
One of the hardest things to spend on when you are trying to save for an important event like a vacation; are gifts for other people. Especially people outside of your family. However, it is very likely that in between now and your summer break, you will need to pay out for all sorts of birthday, anniversary, and celebration gifts.
Thank goodness there are some tactics you can use to cut back on your spending in this area. The first is to go to sites like NetVoucherCodes.co.uk and where you will find codes for things like jewellery items and electrical goods. Both popular choices for gifts. In fact, by using these voucher codes when paying, you can still get decent gifts for friends and loved ones. All while being safe in the knowledge that you are making a considerable saving to add to the vacation pot.
Another option is to set up a stockpile of gifts at the beginning of the year. Then choose items to give to the person in question as they are needed. In fact, doing this can save you a decent amount of money too because you can snap up any bargains in the January sales.
Additionally, many people add gifts they have received to this pile, so they can be regifted, which not only saves on money but on waste as well. Although, if you do choose this latter route, you must make a note of who gave you the gift in the first place. Otherwise, you could find yourself in a pretty embarrassing situation of gifting it straight back to them!
Clothes
The final area that you can make savings for your summer vacation is clothing. In fact, you will be pleased to discover that there are many ways you can cut costs when it comes to dressing your family.

The first of these is to invest in a handheld sewing machine, like the ones discussed at prima.co.uk which retail for about $10-$20. Yes, I know that this sounds like speculating to accumulate, but hear me out. After all, with such a device you can take things up, let them down, let them out, and otherwise repair items instead of having to go out and buy new.
Additionally, getting into the habit of shopping preloved, especially for the kids as they grow out of stuff so fast can save you a pretty penny. Actually, the way that children surpass their clothes so quickly can be seen as a positive here. The reason being that on sites like sweetpeaprelovedclothes.co.uk there is often a vast selection of brand new, like new and even designer wear available for a fraction of the price. Of course, buying this instead of new 'off the rack' will allow you to use the significant amount of money you save and deposit it directly into your summer vacation fund. A situation that means you should have plenty of money for accommodation and family fun by the time summer arrives.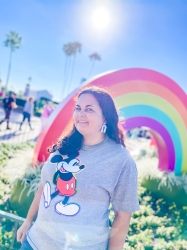 Latest posts by Krystal | Sunny Sweet Days
(see all)