Rosen Shingle Creek Hotel Review
Here's to weekends away, late nights with wine and friends by the pool, too many photos, and early mornings!
I made the three hour trek from southwest Florida to Orlando early Friday after breaking my iPhone. A blogger does not simply attend a conference without a smartphone. It just isn't possible. After a lengthy stop at AT&T to get myself a new iPhone (note to self: Get insurance.), I was on the way. I stopped in Celebration to visit a friend, and we were OFF!

The conference was held at the Rosen Shingle Creek which is a gigantic property. There were pools, restaurants, bars, conference rooms, a shop, and lots of long hallways with comfortable and spacious rooms. I do not think I've ever stayed at a hotel this large, and I certainly wore my comfortable walking shoes all weekend. There really was no reason to leave this resort (though we did), since everything was on property. Next year I'm definitely going to stay an extra day and possibly arrive earlier. There were just so many amenities I wanted to use, but there simply wasn't enough time.

This view from our room says it all. I mean, I needed a lazy afternoon by the pool!

The property also boasts a golf course if you're into that sort of thing. I feel like this would be a great family vacation destination since everything is right there. Maybe next year this will be a family trip, and I'll bring my husband and kiddo.

This beautiful sunrise was one of the highlights of my iPhone photo album for the weekend. It was a gorgeous morning at the resort! What I did enjoy about the hotel was the variety of food. They had several restaurants including Mi Casa Tequila Taqueria. Mexican food is my favorite anyway, but when you have giant margaritas…consider my day made.

I stopped in for a quick cocktail and an order of carne asada tacos for a snack while my friend ordered the Baja Lobster & Crab Guacamole. We both enjoyed the jumbo mango-ritas. I call this a win.

This Izzie Fizze was Grey Goose, lime juice, cranberry juice, and champagne! I love any cocktail that adds a bit of bubbly to its recipe, and this one was no exception.
I've stayed at the Rosen Shingle Creek three times now since this post was originally written, and each time it has been the ultimate getaway. I love the pool, the food options and bar, and the many things to do both on and off the property.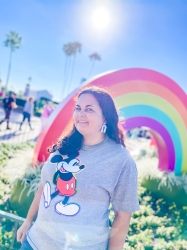 Latest posts by Krystal | Sunny Sweet Days
(see all)