Revamping Your House: DIY Ideas for a Stunning Space
Do you feel like it's time to give your home a makeover? Are you ready to see a completely new and refreshed look in the space where you live? Whether you are up for making some major changes or just want a few small tweaks, there are plenty of ways to revamp your house without breaking the bank.
From do-it-yourself projects that cost next to nothing, such as repainting furniture or using wallpaper accents; all the way up through more complex tasks involving construction and demolition. In this blog post, we will discuss several DIY ideas for revamping your house so that it looks stunning!
Reupholster your furniture for a fresh look
Are you bored of the same old furniture in your home? Tired of looking at the same pattern or color every day? Well, it might be time to consider reupholstering your furniture for a fresh new look. Whether it's an old sofa, armchair, or ottoman, reupholstering is a great way to revamp your furniture and bring new life into your home. Even just adding stair treads could improve your space. Of course in addition to furniture upgrades.
You can choose from a wide range of fabrics and colors to give your furniture a unique and personalized touch. Not only will your furniture look brand new, but it will also save you money by avoiding the cost of buying new furniture.
Add texture and interest to the walls with stencils or wallpapers
If you're looking to give your walls a unique and eye-catching update, stencils and wallpapers are an excellent way to do it. With stencils, you can create a custom pattern in any size or shape you desire, and the possibilities are endless. Whether you go for a bold geometric print or a delicate floral design, stenciling is a fun and easy way to add texture and dimension to your walls.
Alternatively, wallpapers provide an instant transformation to any room, offering endless options for pattern, color, and texture. From metallic finishes to intricate designs, the right wallpaper can make a statement and truly pull a room together.
Install a new mantelpiece and accessorize it with interesting trinkets
Your home should be a place of warmth and comfort, and what better way to create this environment than with a beautiful new mantelpiece? Not only will a new mantelpiece add style and sophistication to your living space, but accessorizing it with interesting trinkets will also give it a personal touch. Perhaps you could add a vase of fresh flowers, a collection of decorative candles, or even some antique ornaments.
Hang a mirror in a prominent place to reflect more light into the room
Adding a mirror to a room is a fantastic way to make the space feel brighter and lighter. Hanging a mirror in a prominent place can reflect more light into the room, creating a warm and inviting atmosphere.
Whether it's a small or large mirror, it has the ability to enhance natural light, brighten areas that lack sunlight, and reflect light from other decorative elements in the room. Not only does a mirror have practical benefits, but it can also act as a stylish and eye-catching element within the decor.
Create an accent wall with chalk paint
Revamping your home space can be a daunting task, but creating an accent wall with chalk paint can be a game-changer. Chalk paint has become a popular choice in recent years for its versatility and ease of use, and it's the perfect choice for a DIY project like this.
An accent wall can add character and depth to a room, and with chalk paint, you have the freedom to choose from a vast array of colors and designs. You can create anything from a bold and dramatic wall to a subtle and sophisticated look, depending on your personality and style.
Bring in plants for both decoration and air-purifying benefits
Revamping your home can be an exciting process, but it can also be a great opportunity to bring a little bit of nature into your indoor living space. Adding plants to your décor can have numerous benefits, including improved air quality and a visually pleasing aesthetic.
Not only can plants purify the air in your home by removing toxins, but they can also increase the humidity, making your space more comfortable. When choosing plants, consider both their air-purifying capabilities as well as their aesthetic appeal. With so many different options available, you can find the perfect mix of plants to suit your style and taste.
We've explored a few top tips on how to revamp your home with little effort and expense. Reupholstering furniture, creating accent walls, and installing mantelpieces will give your interior design a fresh look without breaking the bank. Mirrors can be used for reflecting light into dark corners, and plants can bring life to any room. Stencils and wallpapers will add texture and interest to your walls.
Whatever approach you decide on, don't forget the importance of accessorizing – having trinkets dotted around your home will draw the eye to details that might otherwise go unnoticed. All in all, transforming your home doesn't have to be a daunting challenge; it's simply a case of tapping into your creative spirit and adding a few individual touches here and there.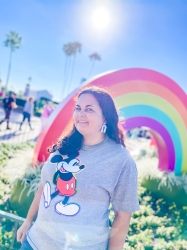 Latest posts by Krystal | Sunny Sweet Days
(see all)