Revamp Your Wardrobe in Time For Summer
Now that we're solidly in spring, it's the perfect time to look forward to summer. Some people love summer, while others are less enthusiastic about the heat. But whether you prefer summer or winter, your fashion has to reflect the upcoming season.
By sorting out your summer wardrobe now, you won't be left in the lurch when those first sunny days come in earnest. Depending on where you live, summer might be particularly hot, which means that you don't want to be stuck wearing warmer spring clothes while everyone else is ready for the weather. 
Summer Dresses
One of the wonderful things about the summer heat for many people is the opportunity to bring out their favorite summer dresses. They work well for formal dos and casual events alike, it just depends on the style and how you wear it.
A summer dress can come in several different styles. For example, you might like the classic, floaty floral style. These dresses can look effortlessly feminine and they're comfortable too. Wear with a floppy hat, flats, and sunglasses for a gorgeous summer look. On cooler days, you could add a touch of edge to your style by pairing it with a denim or leather jacket and chunky military boots.
Some people prefer a more elegant look, with simple patterns and sleek, defined lines that perfectly show off the figure. You can pair these dresses with a mini-jacket, a slight heel, and your favorite small bag for an outfit that can rock any night out.
Many summer dresses embrace the sun and show off a bit of leg. For example, STAUD mini dresses come in several different styles to work with your preferences. Do you like elegant and classic? Vintage 60's bold patterns? Sleek and sexy? Cute and girly? There's a mini dress for you out there.
However, you don't have to get your legs out to enjoy the summer. Maxi dresses are still a great option, especially if you choose something with breathing room. You could embrace the laid-back bohemian style and pair your dress with chunky jewelry, or wear something timelessly simple and elegant.
Swimwear
Whatever you do, don't forget about your swimwear. You could drag out last year's swimwear and hope for the best, but remember that your body may have changed over the year. Even if you've worked hard for your summer body, there's no harm in looking for something brand new.
Swimwear comes in different options for different people. The basic choices include bikinis and one-piece swimsuits, but you can find other choices out there as well. For example, some people prefer a two-piece tankini, for the comfort of a bikini but the coverage of a swimsuit. But even in these categories, you'll find styles that range from simple and comfortable to more elaborate.
As well as the swimwear itself, you should also consider other beach or poolside clothes. A floaty beach dress can be worn over your swimwear, which means that you can easily dress and undress for the water. You can also usually eat out in a beach dress. Pair with sandals or flip-flops and the classic floppy hat for the perfect beach babe look. Don't forget the sunscreen!
Casual Clothes
While you can wear a summer dress casually, and look great doing so, not everyone wants to wear a dress every day. In this case, it's time to break out the shorts. For hanging out casually in the heat, many people choose to wear baggy or short shorts with a stringy vest. It's a classic summer look for a reason, it keeps you cool and looks great.
Or, to make a change, wear some jean shorts with a t-shirt. This option is ideal for hot days with a cool breeze. You can also shrug on a cardigan or jacket, just in case. Pair with flats or sneakers for the classic cool-girl look.
But you can wear shorts for more smart-casual looks as well. Pair longer shorts with a shirt or blouse and some classic flats. True, you probably couldn't wear it to a formal wedding, but it works perfectly for casual events where you're still expected to dress up a bit.
Hair and Accessories
This article has already mentioned certain accessories that you can pair with your summer clothes. But as well as hats, jewelry, and shoes, consider other accessories like cool cotton scarves and parasols to keep the heat of the sun at bay. Of course, you should also remember to style your hair to complete your summer look.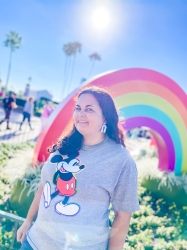 Latest posts by Krystal | Sunny Sweet Days
(see all)