Raw Dog Food: The Benefits With TruDog
This blog post is sponsored. All opinions are my own.
As a dog owner, you want the best for your dog – just as you would give him organic fruit and vegetables if he was human, so you might buy them from the supermarket. Why? Because it is simply better for him! Dogs can eat processed food that has been made purely from meat and vegetables, or they can eat raw food, which can be made from several ingredients. However, it is more the case that they would hunt for their own food in a natural environment if they had the chance.
When considering feeding your dog raw rather than processed dog food, you need to consider what he would eat if he was out hunting. Most of his diet would be much-needed protein, minerals and vitamins. We have three rescue dogs, and I am so grateful to have discovered TruDog. Plus, it's based in Tampa, where we live!
Raw dog food – the benefits
There are many benefits to feeding your dog this way and it's far healthier than feeding him processed kibble. Look for TruDog products that work with your own pet's needs. Look for Premium Freeze-Dried Raw Dog Food. The TruDog's Feed Me Crunchy Munchy Beef Bonanza, for example, offers nutrient-rich ingredients including meat, organs, and herring oil to help with digestion. Since they process most dog foods that you find at your local grocery store at high heat, the nutrients are cooked out. By using TruDog's freeze-dried dog food, the original nutrients are still available.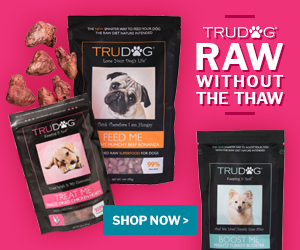 Halloween Sale: Save 25% off Treat Packs with the code HLW25AP from 10/24/2021- 10/31/2021
The benefits of raw food include:
Improved digestion – Raw dog food is easily digestible for your pet, so he can absorb more nutrients from his meal. The lack of additives, preservatives, and other chemicals in the meat means it is easier to digest. 
Improved energy levels – Dogs are very active animals and they need plenty of protein for their muscles to grow. If your dog is not getting enough protein from his kibble, then this will mean that he is lethargic and lacks the energy to play or exercise as regularly as he should.
Healthy skin and a thick coat – Dogs with healthy skin and a shiny, thick coat are often those who eat a high proportion of meat in their diet. This is because meat has many proteins and amino acids that help to keep skin and hair in excellent condition.
Teeth and gum health – The chewing action when eating raw food helps to remove plaque from your dog's teeth, which can lead to better overall dental health. It also acts as a natural toothbrush!
TruDog also has a Spray Me product that helps maintain healthy teeth and gums for your dog as well. It's all natural and easy to use.
Weight control – Dogs who eat raw food are not usually overweight. This is because they are constantly exercising and foraging for their next meal, so they don't constantly snack on human food or have long periods of time where they are inactive.
Better overall health – Many vets now recommend feeding your dog this way as it helps to keep him in the best health possible. There are many things that can go wrong with a dog's internal organs, which is why it is important to maintain his digestive system in the best condition possible.
A stronger immune system – If your dog eats nutritious meat, then his immune system will be much stronger than one who regularly snacks on kibble. He will fight off most diseases and infections, so he will need fewer visits to the vet.
A healthier heart – Fish oils are often used in commercial dog foods because they help to keep the heart healthy. However, if your dog is not getting enough Omega 3 from his food, then he may suffer from several cardiovascular problems throughout his life.
Ready to upgrade your pet's health? Shop TruDog!
Latest posts by Krystal | Sunny Sweet Days
(see all)