Productivity Hacks For Working Moms
This post is part of a social shopper marketing insight campaign with Pollinate Media Group®  and The J.M. Smucker Company, but all my opinions are my own. #pmedia #DunkinDonutsPublix  http://my-disclosur.es/OBsstV
I have worn many hats in my time as a blogger including work at home mom, working mom, full-time blogger, and even entrepreneur. I feel like I have a lot of experience to share what productivity hacks can work for you when you are a busy working mom. Whether you have to wake up in the morning and sit in rush hour traffic on your daily commute or you roll out of bed to get to work while still in your PJs, we each have our own unique set of challenges. I've seen them all. Let's recap, shall we?
I was a full-time work out of the home mother who juggled this blog part-time.
I worked on my blog and created a full-time income for myself (and did this for two years!).
I decided to work on my career and transition to a full-time work at home mom.
And, most recently, I decided to take a chance. I am always looking for a challenge, and I decided to seek employment outside of the home. I know, crazy, right? Everyone seems to want a cozy home office to work from the comfort of their own house without worrying about a 9 to 5 schedule. I thought long and hard about what direction I wanted to go in (mainly which way could I continue to grow my side hustles and work on sharing more of my daily life on my blogs), and I knew what the answer would be!
So, whether you're a working mom or an aspiring working mom, here are a few productivity hacks for busy working moms. Hats off to you – we know it's ain't easy!
No matter the day or the type of work I do, coffee is a major part of getting going in the morning. Whether it's a 7 AM cup of coffee or a 3 PM iced java, Dunkin' Donuts® has a variety of premium flavors to create a rich and smooth brew. To prepare for my busy week, I usually shop at Publix for groceries and coffee since it's one of the more popular stores here in Florida. There are always sales, and you can use this coupon to save when you shop!
My Busy Working Mom Productivity Hacks
Set your coffee to brew the night before. You may need to invest in a fancier coffee machine, but it is SO worth it to wake up to freshly brewed coffee!
Designate your favorite reusable coffee cup. Dishes are easier when there aren't so many of them! I try to stick to the same coffee cup throughout the week and rinse it out religiously after use. I also have a travel mug with a lid that I never lose so I can ensure that it is ready for me on the way out the door.
Find your perfect brew. Do you like a light roast or need a bold flavor? Cream and sugar? Or, do you like almond milk or perhaps even coconut milk creamer? Experiment to find YOUR favorite flavor. You may surprise yourself! Once you know your favorites, you can have a seamless routine as you enjoy your coffee in the morning. And, if you're something who seriously doesn't life coffee, I assure you that you DO. You just have to find the RIGHT flavor combination for you.
Start with your big 3. Skip the long to-do lists. What are you big three tasks for the day? Do them before work if you can (such as errands or mailing something). No one likes to sit in 5 PM traffic to try to get a package out at the post office! Send that big email, write that blog post, and flip that load of laundry.
Do one thing at a time. This is kind of a cliche, but it is so true for my work. I try to block out my day so that I am doing one task for thirty minutes at a time before switching my focus to something else that needs to be done. I feel less stressed and more organized throughout the day.
Do it once. If I see an email that needs a response, I reply. If I see a task that needs to be done, I do it. Instead of writing it down to do it "later," I do it instantly. This has taken time for me to get used to this though. I used to receive emails and mark them in a folder to "reply later," but that quickly would turn into never. If a task takes a few minutes or less, do it as soon as you see it needs to get done!
Simplify your morning routine. Try to do as much as you can the night before. I also put things off until I get to work. This might seem counter-productive, but it really does help! I would rather get to work 15 minutes early and spend that time putting on makeup or making a quick phone call than trying to do that before rushing out the door at home.

I would love to hear how Dunkin' Donuts inspires you on your busy work days. How do you juggle your everyday life between work, home, and your family? Read The Truth About Maternity Leave for more inspiration.
Make Your Own Coffee at Home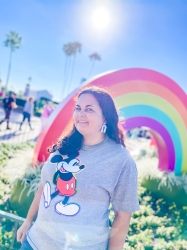 Latest posts by Krystal | Sunny Sweet Days
(see all)