Looking for a fun party idea that couples can enjoy? Try a friendly round of poker. The following ideas will help you setup the poker table, decide on a menu and have you all playing like the pros. From the moment you invite your friends until you say 'good-bye,' this is the perfect time to have some fun playing poker!
Host a Poker Party

Poker-based parties are always a big hit and they are a great way to get together without spending hours planning. Once you have decided on a date and time, you will want to let your friends know about the event. Mail, email or post an event with a poker-themed invitation. Set-up tables in groups of four (standard sized card tables are the simplest way to organize the card-tables). Cover them with green felt, red-black paper products, and decorations to add to the casino ambiance. Make sure you to go through the rules for the different types of poker games, and ask your guests to dress up as bartenders, barmaids, high rollers, and dealers.
Decorating
Decorating your poker party doesn't need to be expensive. Many decorations are easy to make. It is easy to make centerpieces with playing cards. Simply bend old cards slightly then glue them to the outside of recycled cans and containers. Add ribbons and trims to the edges for interest. Make a banner with cards or purchase inexpensive party decorations, favors, and supplies in a local discount store or online. If you choose a color scheme that includes standard colors such as black, green, and red, you can save a bundle on paper supplies. Poker chips and umbrellas, used when serving mixed drinks, are colorful and fun.
Foods, Beverages and Desserts
Cut down on the amount of time spent on food preparation by selecting on a simple menu. Set finger foods out in bowls; create an area to serve beverages and ice, and make something fun to eat such as a poker-style cake or cookies. By asking guests to help out, you can get them involved, especially the friends who arrive early. Remember to serve plenty of water or bottled water and pitchers of iced tea.
Choosing the Right Outfit
Dressing up for a poker party will add extra excitement and interest to the event. You may want to wear a long skirt and silky blouse, a playful cocktail dress, or your favorite black outfit. Men can wear slacks, shirt, and evening jackets. If you really want to motivate your guests…why not embellish the theme by inviting them back to the Wild West, Roaring '20s, 1960s 'James Bond' or a Grecian toga poker party?
The possibilities are almost endless. Organizing a poker party for your friends is one of the simplest and most entertaining ways to get together and play. Once you've decided on a date, time and a poker theme the rest is up to you. So start planning and get ready to host the poker party of the year!
Fun Party Themes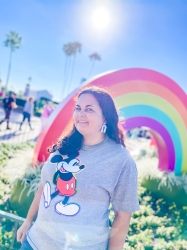 Latest posts by Krystal | Sunny Sweet Days
(see all)