5 Photography Backdrops for Less
Whether you're a blogger who is looking to take better photos or a new photographer, you know how hard it can be to find backdrops that are versatile and unique. Having been a photographer for a few years now, I have found many things that work excellent as backdrops. The below information is a list of compiled items that are affordable and can be not only easily stored, but make unique photography backdrops.

Newspaper or Book Pages. Newspaper that you have at home and pages from vintage books that can be found for around $1 at thrift stores, both make great backdrop choices. You can tape the paper and pages to an existing backdrop, a wall in your studio or home, or use a large piece of cardboard to tape it to depending on the size drop that you are in need of. This can easily be taken down and remade without a hassle.
Check out this backdrop from earlier this year.
Wrapping Paper or Bulletin Paper. Have you ever thought to tape wrapping paper to the wall to make an interesting backdrop? How about sliding it onto that backdrop stand and taping it down just like those seamless paper backdrops? It works excellent! There are tons of patterns that work well as backdrops, and they come at a low cost. Especially if you shop the after holiday sales. I have found some super great deals at Hobby Lobby with the 40% off coupon. Hobby Lobby also has bulletin board paper in and a few photography backdrops in rolls, and it works excellent!
This is one of their photography backdrops, I am in the process of making a board with the white washed wood paper on as well. Click here for more backdrop inspiration!
Blankets. Personally I am a sucker for vintage blankets, I have far too many of them but refuse to stop buying unique ones when I see them. (When am I EVER going to have the chance to buy them again?!) Throws work exceptionally well as newborn bean bag drops, and vintage handmade quilts and blankets work great for baby and children's sessions. Every one that I have found has been at a thrift store for only a few dollars.

Isn't this blanket gorgeous?! I recently used it for a two year session, and it was a great pop of color!
Clearance Fabric. Fabrics work great as backdrops, we all know that. The trick is to find it on clearance.
I found this fabric on sale at Jo Anns for just a few dollars a yard. I find that 3 yards work great for kids, and 4 for family shots. Click here to see it in action!
This fabric was purchased at Hobby Lobby with a 40% off coupon it was only about $13 for a new backdrop, and it works for many types of photos. Click here to see how to use it!
Streamers. You know those party streamers from the dollar store? Yeah, those cheap little rolls can do wonders for a photo backdrop. Just hang them from the backdrop stand or tape them to the wall vertically to make a unique backdrop for things like themed mini sessions and one year cake smashes.
This is the same concept as streamers, but with fabric instead. You can attach the fabric to twine or strong string to clamp it to the backdrop stand. Here's how to use streamers in your next shot.
—
Mariah has some great ideas for your next photo shoot. I know that I personally LOVE to use plastic tablecloths from the dollar store to set up photo booths!
What do you use for backdrops in your photos? Hopefully, this gives you a few ideas to try!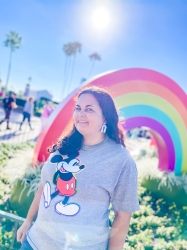 Latest posts by Krystal | Sunny Sweet Days
(see all)