This shop has been compensated by Collective Bias, Inc. and Walmart Family Mobile. All opinions are mine alone. #MobileMemories #CollectiveBias
Summer is just about here in Florida. Want to know how I can tell? The day will be warm and sunny before a quick ten minute thunderstorm. We have been hit hard all week with fast storms that scare my dogs and flood our pool. Yet, this is what I love about this time of year. You can enjoy the sun before cooling off in the afternoon. The rain usually parts by sunset so you can enjoy a nice view at the beach or on our dock! I also take WAY more photos this time of year, but it isn't always convenient to use my bulky DSLR. The best camera is the one in your hands, so I'm sharing a few tips to document your summer family memories with a smartphone.

I've been shooting our impromptu family adventures on my trust Samsung Galaxy Avant from Walmart Family Mobile. The camera boasts five megapixels and offers a large 4.5″ touchscreen. Walmart Family Mobile service is $29.88/month(for the first line) Unlimited Talk, Text & Data service plan which includes up to 1G of 4G LTE data. It was perfect for my needs! You can find the starter kit along with this phone near the electronics department. My local Walmart even has an official cell phone counter to get your service ready to go in a hurry.
Disclaimer: All prices for phones and plans included in this post are accurate as of the date of posting; however, these prices are subject to change. Please refer to http://cbi.as/8e03 or your local Walmart for current pricing.

The Galaxy Avant is pretty intuitive since it is an Android device. It's easy to navigate to apps, download new ones, and to adjust your camera settings. Here are a few ways that you can use your smartphone's cameras for better photos in a hurry!
1. Move with your feet. Try to avoid using your camera's zoom. It sometimes can distort photos. Move with your feet to get the shot that you want.

2. Get in close. Your smartphone CAN focus on tiny details! In the right lighting, you can share stunning details of flowers or other nature scenes. You can even use an app like Camera+ to add a depth of field filter to your final photo. A depth of field filter makes the background blurry while keeping your subject in focus.

3. Go outside. Avoid dark photos by taking your best shots in indirect sunlight. Think the shade, a covered patio, the garage with the door open, or even a sunny yet shady park! Your smartphone camera works best when light is available. This will also help you show off your best work!
4. Try different angles. Consider taking photos above your subject, below, or even straight on. If you're photographing food, try taking photos at every angle. If you're wanting to take a photo of a family member, have them sit while you are standing. There are many ways to add variety to your photos!
5. Learn your smartphone's camera settings. Unless you really try, you might not know just WHAT your camera has to offer! My Samsung Galaxy Avant has a panoramic function, a beauty mode, and even an option to add sound to a photo!

6. You don't have to crop everything into a square. And, you shouldn't! Sometimes beautiful landscape portraits or nature shots are perfect as is. Don't let Instagram crop them into a square and lose some of that detail. Try an app that turns your landscape images into perfect squares by adding white space to the top and the bottom before sharing.

7. Edit your photos before sharing. You can add text with an app like A Beautiful Mess or use Camera+ to adjust brightness. Those two are my go to apps on Android. I also use Snapseed to adjust things like white balance. You will be amazed what you can do to your plain ol' smartphone photos with just a few extra clicks in an app.
8. Create your own style with filters or specific edits. If you share your photos on social media, you can create a cohesive brand with a similar style among your photos. I try to take bright photos outdoors and it has somehow become my "style." I shoot bright colors, landscape scenes, and Florida lifestyle photos. I use similar filters each time to brighten and add contrast. My Instagram and photos around my home that I print all seem to have this style, and I love it! Experiment and see what photos you are drawn to and which ones you love to take. Stick with it so your work can be recognized across the web!
9. Consider props. You might just be taking a quick family photo or a picture of your latest beach outing, but think about the background. What exactly are you photographing? Make sure the background is clear of distractions or try using placemats or kitchen towels as fun decorations for product shots.

10. Have fun and enjoy summer! When you use a simple smartphone like the Samsung Galaxy Avant, you don't have to worry about too many functions to learn. It's a great phone for photographing your family all summer long. The service is also reliable enough where you can share your photos effortlessly with a few simple clicks. The service and speed lets me upload photos to my blog, my Dropbox account for easy sharing, and all over social media.
I shared how I hope to capture my family's memories this summer. What tips would you add? Are you doing anything fun with your family this summer? 
[amazon-related-products keywords="selfie stick"]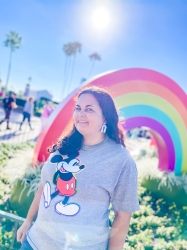 Latest posts by Krystal | Sunny Sweet Days
(see all)