Pet Travel Tips For Adopted Pets
When I was little we moved to Florida and the majority of our extended family stayed in the Midwest. This meant A LOT of road trips. We always packed up the car with lots of snacks, books, music, and of course – our pets!
Road trips and traveling, in general, can be pretty stressful, but add in adopted labrador dogs and cats, and it can be a nightmare. Our dogs were always very good in the car during these road trips. One dog slept in his car bed and another would sleep on the lap of whoever was closest. Hotel rooms were always a challenge though! Over the years I have traveled with 4 dogs, one bird, and a fish, so I have plenty of advice to give to help out any pet parents wishing to travel with their fur babies! All of our pets are adopted, especially our lab mix, and we know that they LOVE a good road trip…but we just have to be prepared!
Travel Tips For Pet Owners
BringFido.com is a GREAT resource for any pet parent. You can search for and even book hotels via the app or website. Every hotel also has their pet policies listed, as some hotels will only take small dogs and some have a limit of the amount of animals in the room. The website and app also has a searchable directory of restaurants, parks, beaches, and even dog events where your pooch is permitted. A Dog Owner's guide and a toll-free number for any additional questions are also included for additional resources.
Call your destination hotel/house to make sure that everything is arranged ahead of time. BringFido.com has most of the policies for hotels written down, but some hotels will require that pets never be left in the room solo. Some hotels also require pet deposits or that your animal be crated if left in the room.
If flying, be sure to call the airline ahead of time to understand their policies and make a reservation for your pet. Most airlines have travel restrictions with animal size and weight, so it is helpful to know this information ahead of time to make sure that your pet and carrier will be able to travel. There is also usually a pet fee, so be prepared to pay this.
Going on a road trip? Be sure to do a mini test run ahead of time. Before I took my dog on our first road trip, I took a shorter one-hour car ride to see what worked and what did not. I learned that my doggy prefers to sit in the front seat with some blankets—no toys and no treats. Some dogs will prefer to be in a dog bed or a crate with toys and familiar objects. If you are traveling with a cat, I would definitely recommend a few test runs to figure out which way works best. Your kitty might prefer to be in a carrier closer to the front so they know where they are going, but others might like the back seat.

Be sure to pack PLENTY of food for your fur baby. I always try to pack some extra just in case. What's most important for us is to keep our pet's diet consistent. In my experience, it is easier to travel with my dog's brand of food instead of buying it on the go. We simply added a little of their typical food to their travel dog bowls each day and also packed a tupperware container full. Some dogs can get upset tummies on car or plane trips, so talk to your vet if your pup is experiencing any GI issues as they can recommend a short-term diet to help manage his/her upset stomach.
The best advice for any pet parent on-the-go is to be prepared—and don't be afraid to ask questions!
Tips For Your First Pet
What are your best travel tips for your pets? Do you have adopted animals?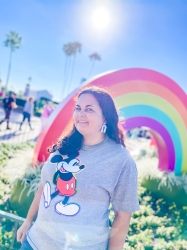 Latest posts by Krystal | Sunny Sweet Days
(see all)