10 Uses for Peppermint Essential Oils
Peppermint oil is the perfect oil for those just starting to experiment with essential oils. The easily recognizable scent makes it a familiar one for newbies to start out with, which is great because it offers solutions to common health, beauty, and household issues. Take a look below at 10 uses for peppermint oil that you can try. It may be the perfect oil for you!

1. Wake up your senses. Feel more alert with the use of peppermint oil. Whenever you need a quick and natural pick me up, skip the soda and inhale a few drops of peppermint oil. If you wish, you can even add ONE DROP to your tea or cold water in a GLASS for a quick boost.
2. Strengthen your immunity. Build your immunity when you add a drop of peppermint oil to a glass of water. This is a great mixture to enjoy daily during cold and flu season and will help keep illness at bay.
3. Banish infection. Banish bacterial infections when you dilute the oil and place it over the area of concern. It can help keep it clean, keep infection at bay, and promote healing.
4. Fight fatigue. If you are suffering from feeling sleepy, try diffusing peppermint oil through the room. This is a great trick to try in the office where people often experience afternoon fatigue and drowsiness. I use my USB diffuser to diffuse peppermint in my office. It's so refreshing!
5. Soothe your sinuses. Diffuse peppermint oil in your bedroom or add a few drops to warm water and gargle. It will help break up phlegm and can help soothe swollen and irritated sinuses.
6. Cool your skin. Place a few drops of peppermint oil into a spray bottle of cold water. Mist on the skin after a workout or when working in hot temperatures to soothe and cool the skin. Avoid the eyes.
7. Freshen your breath. Peppermint oil as you guessed is perfect for freshening your breath. Add a drop to your toothpaste for fresher breath and to kill bacteria.
8. Soothe a headache. Do you suffer from tension headaches? If so, peppermint oil can be your best friend. Massage a few drops into your temples or diffuse for relief. This is the one thing I do more than anything. I love how this feels.
9. Remove ticks. During the summer months peppermint oil can be great for removing ticks. Just place a drop on the tick, wait a few seconds, and remove. It will help the tick slide out and can even fight bacteria and promote healing.
10. Soothe a sore tummy. Place a few drops in warm water and drink to soothe a sore tummy. This works great when you have overindulged.
See how useful peppermint oil can be? Give these tips a try and pretty soon peppermint oil will be your best friend too! You might like these Lime Essential Oil Shower Melts too!
Do you use essential oils?
Essential Oils to Try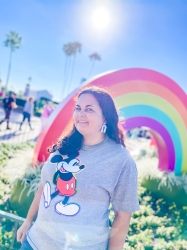 Latest posts by Krystal | Sunny Sweet Days
(see all)