Soirees & Sangria interviews a party planning expert this week! Andi Jenkins of All Put Together graciously answered ten questions about her party planning style. We drew on her inspiration to create two diverse events that would be perfect for any season. Catch the first half of this interview at Karen's Soirees. Read on for drinking game inspiration!
WHICH DO YOU PREFER- AN INTIMATE DINNER PARTY OR A "MORE-THE-MERRIER" BASH?
I love to play party games like Catch Phrase or flip cup (no, drinking games aren't just for college students!) and a "more-the-merrier" policy makes these activities much more fun.
WHAT'S YOUR FAVORITE PARTY FOOD?

My go-to party dish is a layered Mexican dip. It's really easy to make and always a big hit with party guests. If I'm putting out a spread, then I usually go with cheese, Italian meats and various dips.
WHAT SONGS WOULD WE FIND ON YOUR PARTY PLAYLIST?
Nothing keeps a party pumping like a little ACDC, Bon Jovi or Journey, so my party playlist is always full of 80s music. Building a good playlist can be time consuming, so if I'm throwing something more low key, then I tend to use the pre-made playlists in Spotify.
HOW DO YOU PREPARE FOR A PARTY YOU ARE HOSTING?
I'm a super organized person, so I create a master to-do list well before any event. Throwing a party can be stressful, so the more I can do in advance, the more relaxed I am when guests arrive. Cleaning, food prep and decorating happens a day or so before the party.
AND BECAUSE THIS IS SOIREES & SANGRIA, WHAT'S YOUR FAVORITE KIND OF SANGRIA?
I love strawberry sangria! The first time I had it was in Barcelona on my honeymoon. I've been hooked ever since.
Andi, thanks for the party inspiration! I agree that big bashes make drinking games more fun. 😉 I personally am a fan of flip cup or beer game challenges (think Beer Olympics!).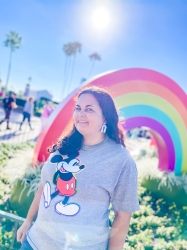 Latest posts by Krystal | Sunny Sweet Days
(see all)