Paleo Breakfast Ideas For Halloween
Are you a fan of Paleo but just don't know how to work it into your fall and Halloween inspired recipes? We are here to help! If you would like to make your breakfast focused around the Halloween holiday it's possible to do so and still stick with the paleo diet. It can be as simple as thinking about the main ingredients like pumpkin and apple when planning out your menu. Want to know more? Look below at some of our favorite Paleo breakfast ideas for Halloween, and see which ones might catch your eye!
Paleo Breakfast Ideas for Halloween
Pumpkin Pancakes
During Halloween and the fall season, you are able to find pumpkins around every corner. Pumpkins are a vegetable making them paleo friendly. You want to roast the pumpkin and then put it into a food processor to make a puree. Pumpkin pancakes are simple to make, all you need is the puree, maple syrup, eggs, coconut flour, baking powder, and cinnamon. Mix all of it together a cook it like you would any other pancake.
Pumpkin Pudding
This is one of my favorite Paleo breakfast ideas for Halloween! If you don't have time to cook a full breakfast pumpkin pudding is a great alternative. All you have to do is add pumpkin puree to spices, chia seeds, and almond milk. Blending it together will give you a nice light fall breakfast. Adding the chia seeds in the pudding gives it some added nutrition.
Pumpkin and Carrot Muffins
Muffins that you can eat while on the paleo diet can still be made with the traditional ingredients baking soda, baking powder, and cream of tartar. If you want to add something extra to your muffins you can choose to top them with pumpkin seeds or nuts.
Pumpkin Spice Bites
If you plan to eat your breakfast on the go on Halloween morning, pumpkin spice bites are just the thing. All you need is coconut and almond flour, coconut palm sugar, pumpkin puree, spices, cashew butter, vanilla extract, and any non-dairy milk. You just simply mix all of the ingredients together into little balls and then refrigerate them for 10 to 15 minutes. You can make a batch or two on Sunday night and eat on these throughout the week in the mornings.
Paleo Tips
Don't these Paleo breakfast ideas for Halloween sound amazing? If you are trying to focus on a Paleo diet, keep these breakfast ideas in mind. They are sure to keep you on track while still letting you have some fun with the Halloween season!
Are there any certain Paleo breakfast ideas for Halloween that you have tried before? If so, be sure to tell us! If you're not paleo, you will love this Halloween Breakfast: Frankenstein Mini Bagels!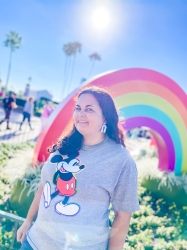 Latest posts by Krystal | Sunny Sweet Days
(see all)