Overcoming Depression Naturally using Essential Oils
If you or someone you know if suffering from depression the faster you can get a handle on it the better. There are many prescription medications out there that help with depression however they also have a huge list of side effects that come with it and they are not appealing. The good news is there are ways of overcoming depression naturally when using essential oils.
Essential oils work fantastic for overcoming depression naturally because they contain aromatic molecules that are able to cross the blood/brain barrier and this which allows for direct relief on the parts of our brain that control depression, anxiety and fear. Because scents are personal and people react differently here are some of the top essential oils you can use when overcoming depression naturally.
 Lavender Essential Oil -Lavender is a true leader of oils when it comes to healing many ailments. Is best used to treat migraine, headache nervousness, depression, fear, anxiety, insomnia and hypertension. It promotes a calming and relaxing effect on body and mind.
Frankincense Essential Oil – The best essential oil to help slow down your breathing which reduces feelings of fear, nervous tension, stress, and anxiety.
Roman Chamomile Essential Oil – A powerful oil that is very calming and relaxing for the body and mind. It is one of the top oils for treating depression and stress.
Geranium Essential Oil – Is a natural sedative, helps to release negative emotions and uplift your mood. It works great to ease symptoms of depression and stress.
Bergamot Essential Oil -Bergamot helps with feelings of anxiety, pain, sadness and depression. It has a refreshing scent that uplifts the spirit.
Ylang-Ylang Essential Oil –A wonderful scent that balances male and female energies. It helps to restore confidence and equilibrium and is used to treat insomnia, anxiety, and depression
Lemon – Lemon's refreshing scent has purifying and uplifting properties. It helps to fight negative emotions, stress, depression and boost your immune system.
How to use essential oils for overcoming depression naturally:
Inhalation:
Add 1-2 drops of essential oils into the palms of your hands and rub them together. Cup your palms over your nose and take slow deep breaths. This will calm your feelings and reduce your breathing rate. You can also add a few drops of oil on a cotton pad and keep with you to sniff when you need something to help calm you.
Diffuse:
Add a few drops of essential oil to your diffuser and run in your office or home throughout the day. You can also diffuse while you are sleeping to help with a better nights sleep and help clear your mind.
Relaxing Bath:
Add 5-10 drops of essential oils to a warm bath. The scents will fill the air easing feelings of stress, anxiety, or depression. If you have sensitive skin mix the oils in 1 tablespoon of a carrier oil before adding it to the bath water.
Massage:
Add 10-12 drops of essential oils to a carrier oil (coconut oil, almond oil). Massage into skin and muscles to help loosen tense muscles and promote a calming reaction throughout the body.
Powerful Depression Essential Oil Blend:
4 parts ylang-ylang EO
4 parts clary sage EO
2 parts basil EO
3 parts geranium EO
1 part sandalwood EO
Mix all oils in a small 15 ml glass bottle. Whenever the need arises simply add 1-2 drops of the mixture in the palms of your hands and inhale. This blend is also great to use in the bathtub or a massage.
Note: Those with Severe cases of depression should seek outside help and the advice of a medical professional.
Essential Oils to Try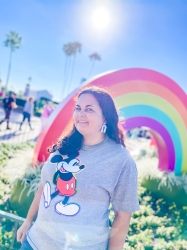 Latest posts by Krystal | Sunny Sweet Days
(see all)