Organize Your Closet | Donate to Goodwill!
My closet has always been kind of a mess. From fluctuating in weight, adding in maternity clothing, and now I'm an entirely different size… I have clothes (and shoes!) in a variety of sizes and fits. Most of these items no longer fit and are either too big or too small, and it was starting to feel overwhelming just doing laundry. I kept re-wearing the same items that I felt "safe" and "good" in, and this left the majority of my closet untouched.
I knew I had to take control so I purchased two items to help get me started. I enrolled in an Organize Your Closet Workshop & I purchased a short ebook called The No Brainer Wardrobe. Both of these things helped change the way I think about getting ready, what clothes to keep and what to donate, and ultimately what makes up a wardrobe.
I first took one of the strategies from the book and implemented it immediately. Get matching hangers. Sounds simple, right? I traded in the mishmash of plastic white and wire hangers for cheap aqua hangers from Target. At least they match! In the future, I'd like to upgrade to nice wooden hangers…but that's for another day. Another year. I purchased fifty hangers…that's all. I would now be downsizing my wardrobe to just fifty items (that are hung).
I was surprised that as I created piles for keep and donate that I didn't even have fifty items to hang. I thought I would have way more, but after I thought about each item and how often I wear it (if ever) and how it makes me look (I was only keeping things that made me feel confident!) I was down to about 30 items. This gives me room to add twenty AMAZING pieces to my closet. Not all at once of course…I'll be picking my next items more strategically. I won't be buying something because it's on sale or without trying it on. I will now only look for quality pieces that I need and fit right.
And, what did I do with all the pieces that weren't right for me? Just because they didn't fit me doesn't mean they were no good. I loaded up some bags and stopped by my local Goodwill. I have about three that are close to my home (they are popular here!), and I was happy to give new life to my old clothes.
Did you know that donating one bag of clothing and one bag of books can equal up to 2.3 hours of on-the-job training for someone in your community? Add to that a used lamp, a dusty computer and perhaps a box of DVDs and CDs, and that number nearly doubles to 5.2 hours. Visit donate.goodwill.org to see how many hours of service programs your donation could create right in your neighborhood.
A simple item donated to Goodwill® can help provide job training programs, employment placement services and other community-based programs for people who have disabilities, lack education or job experience, or face other challenges to finding employment. In fact, Goodwill is the leading nonprofit provider of job training programs and career services in the United States and Canada.
Visit 
www.goodwill.org
 to find stores, headquarters, job training centers and donation sites near you.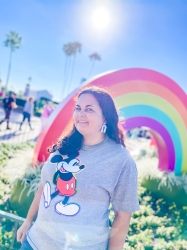 Latest posts by Krystal | Sunny Sweet Days
(see all)