Online dating tips for beginners | 5 Best Hacks
There comes the point where you are either bored or searching for somebody to date seriously, and you decide to begin signing up for an online dating website. The latter can be a little nerve-wracking since you are doing it for the first time, and you have heard many misconceptions about it and are unsure whether it can be trusted. Hence, it is essential to do your research, ask for feedback, be sure of what you are searching for, and be open to any experiences that could be wrong.
If you are about to begin your first online dating website journey, you have arrived at the right destination. This blog will give some tips and tricks for online dating beginners.
The first tip is only to post pictures where your face is visible.
Everybody has an angle where the "best" side of the face is the most visible, where they look like a celebrity; thus, they use that angle whenever posing for an Instagram photo. It is incredible to have that angle; however, if your potential matches will not know who you are when they finally meet you because you look entirely different, your photo choice needs to be corrected.
If you are searching for a one-night stand, post photos where your body is more visible than your face. With that said, some of the best one night stand sites based on the experts of OnlineForLove are Hinge, OnlyFK, Ashley Madison, etc.
However, in case you are searching for something more serious, it is not a lie that how you look has a great impression on whether somebody will be attracted to you.
Having one or two photos with your best angle where your face is not the focus will be fantastic. But make sure that your profile picture and most of your content are of your face.
The second tip is to write things your perfect match could reply to.
If you are searching to encounter somebody who adores Marvel, add something about Marvel to your profile. Likewise, if you want to date somebody that loves Ed Sheeran, use some of his favorite lyrics.
If you are searching for somebody with a kind and sensitive soul, state that about yourself, and you will attract somebody alike.
Like-minded individuals indeed draw other like-minded people most of the time.
Additionally, it is incredible to be aware that you already share so much in common to speak about on your initial date since you adore certain things together.
The third tip is not only to post selfies.
Selfies are great because they can make you feel happy and sexy; hence, taking a selfie every hour is expected. Still, pictures are a great tool to put more of your personality out there. It would be incredible if you could be better at representing yourself as you are at taking pictures of yourself and engaging in fun activities with your amazing friends. Or you could also take pictures at a craft fair which would be another fantastic thing to share about yourself in your profile.
The fourth tip is not to put all your hopes on one person since it would not be a realistic approach.
Of course, it is usually incomprehensible to set your mind to operate this way, but attempt having several approaching dates at once. The latter will mean that if it does not work with one person, you will not feel like it is the end of your world as you will still have other dates.
The fifth tip is to be satisfied.
You will experience days when you scroll through your online dating websites; you will find no one attractive, exemplary, or searching for what you wish. Or it will feel like they seem to be precisely your perfect match, but when you go on a date with them, they will come across as somebody different. Hence, there are some approaches you can implement to assist you in being aware of what to search for in somebody else's profile which will preserve you from going on many bad dates in the long term.
It would help if you knew what engaging in a conversation with your connections would feel like. Ideally, an individual's profile is like communicating with them; thus, if you can not clearly understand what they would be like, and get legitimately enthusiastic about them, then they are probably not the proper fit.
Your potential match's profile should look different and unique from the other profiles you scroll through. For instance, you could find them attractive and enjoy their neighborhood residence. They could be fond of something you like or have the same hobby. You could share the same sense of humor; they could also like stand-up comedy. They could also spend their Friday nights at your favorite bar in the corner. These instances can be significant indicators of finding somebody interesting, not just attractive and hot.
Their profile should also make you feel like you are already friends. Of course, the person you are searching for, you wish to be more than friends with; however, you must also consider them a fantastic individual that you would love to encounter in any capacity.
Online dating can sometimes get exhausting; however, one day, you could encounter somebody who will make you smile whenever you meet them. To make beginner online dating less stressful, we gave you some tips in this blog. Have the best of luck on your adventures!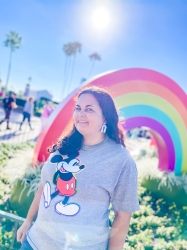 Latest posts by Krystal | Sunny Sweet Days
(see all)