Office Organization: How to Add Color to Your Home Office
I received product from Macy's; however, all thoughts and opinions expressed are my own.
We recently moved into a new space, and I traded a dining room for an office. Our townhouse is cozy and cute, but spacious is not exactly an accurate description of our new home. Instead of setting up a dining room, I have turned it into a small office. To make this room feel more like my style, I have added in a few things to brighten it up and help me keep it organized.

1. Declutter. When we moved, I made sure to get rid of books, binders, piles of printables, and other school supplies that I have somehow manage to collect. The goal was to have a desk that only had my planner, pens, and a printer on top of it. No more paperwork! I hung a basket on the wall for all my important documents, and I use bins to store photos or magazines I am waiting to read.
I only have two bookshelves now, so if it doesn't fit on the shelves I don't get it! It has helped me slow my book buying sprees (instead I use the library or listen to audiobooks), and everything has a place now.
2. Add color. I tried to turn my small office space into a spot that was motivational. I looked for colorful art prints and lots of room for notes and reminders. Instead of a wall calendar, I have a burlap bulletin board.

3. Choose items that inspire you. When I first learned about the Global Goods Partners line at Macy's, I knew that I would have a few pieces from this line in my home. #GlobalGoods champions women to earn fair living wages and to support their communities through their sales of handcrafted items.
I received a wool throw handcrafted by Bolivian women. Their traditional pampa looms weave more than beautifully crafted throws; it knits, plaits and merges hopes and dreams for economic empowerment, better healthcare for families, and enhanced educational opportunities for the children in their respective villages. Bolivia is the poorest country in South America, and 45 percent are living below the poverty line. Sales help strengthen the community by reducing migration to other cities/villages in search of work. All products are available only on macys.com.

As a working mother, seeing this throw in my office reminds me to do my best each and every day. I am truly blessed to be able to do the work that I love and support my family at the same time.

MACY'S #GLOBALGOODS
Macy's has long established itself as a retail brand that supports fair trade and economic stability. Through the Global Goods Partners line, Macy's continues its goal of encouraging economic empowerment in poverty-stricken Latin American countries through the sale of one-of-a-kind crafts.
4. Don't forget a rug. Add another pop of color with a fun rug!
How did you make your office space yours?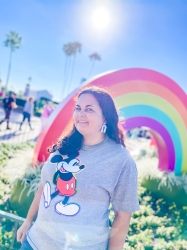 Latest posts by Krystal | Sunny Sweet Days
(see all)