Office Organization: How to Avoid Distractions to Get Things Done
I'm back again with a few tips on office organization, and there is more to it than just being "organized." Clutter, unread books, and stacks of paperwork can be overwhelming in an office, but digital clutter and distractions can be just as much of a time suck. Today we are going to talk about distractions and simple strategies that you can use to help you every day. Everything from social media to laundry can be a productivity problem. If you allow yourself to get distracted by every social media notification, it is probable that you won't get anything done!

The key to avoiding distractions is to have a plan in place when you are working at home and a schedule for dealing with things that you can't avoid. What are your biggest distractions? Facebook, YouTube, streaming Netflix all day? There are many tools you can use to avoid distraction (the Self Control app is one to try along with Facebook Newsfeed Eradicator which eliminates your newsfeed so you don't mindlessly scroll!), and you can also MOVE distractions away from your office as well.
For example, move the television to another room to stop binging on your favorite episodes, wear headphones, and know that it is okay to set "working hours" so that your family lets you work.
Simple Strategies to Avoid Distraction
Password Management. Do you ever waste thirty minutes trying to remember passwords with 8 characters, 2 lowercase letters, exclamation points, and a matching game where you identify all the storefronts in a captcha form!? It is probably one of my biggest frustrations with the internet today along with two-step verification (an extra security measure you can apply to certain apps and sites like Instagram where you can receive a text message when you log in to truly verify your identity). While I appreciate the protection, it is just one more thing to remember.
Luckily there is a service called LastPass that lets you access ALL of your passwords. It is a password manager that has access to your computer. It will store passwords, create passwords, and let you log in to sites quickly. Not only is this handy and convenient, it will save you hours of time over your work weeks—and it will keep all your accounts, logins and subscriptions secure and safe!

Create Checklists. Obviously, a to-do list is a simple thing to write down each day, but there are recurring tasks that you probably do every week in your home or business. For example, you might write a blog post every week or clean the kitchen. You send an email weekly to your grandmother or try to create a new product every month. If you are doing something more than once, it is worth creating a recurring checklist.
What is a Recurring Checklist?
It's a list that repeats. I use a project management tool called Asana to automatically do this for me, but you can do this by simply writing a list in your planner every week.
What Recurring Checklists Can Help You Accomplish
You can track your projects and make sure the task is always finished.
Your big tasks are completed quickly. Recurring checklists can remind you of your weekly and monthly projects, and you won't waste time trying to figure out what to do next.
You can hand off tasks you don't like to do. When you have a recurring checklist, you can hire out for certain tasks or trade tasks with a friend easily.
When you conquer your distractions, you can get more done. A colorful inspirational office can also help. Catch up on my office organization series in this post about how to create an inspirational office.
Need more office organization? Click below for your free workbook.
How do you ban distractions in your home office?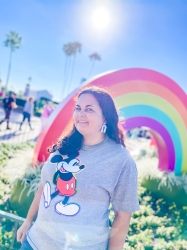 Latest posts by Krystal | Sunny Sweet Days
(see all)