How to Create a Nighttime Routine: Skincare Edition
This post contains affiliate links.
Women have to deal with a lot of responsibilities and struggles while they are at work, which makes it difficult for them to have a healthy nighttime routine. Some women find it is easier to find time for themselves when they get home. Sleep is important to our health, whether we are aware of it. We function best when we have a good amount of quality sleep. A healthy night's sleep, paired with a solid nighttime routine, can also help us stay physically and mentally awake throughout the day and have more energy to complete tasks.
Nighttime Routine Tips and Tricks
A good night's sleep can help improve your mood, increase your productivity, and give you more energy. It's important to get the right amount of sleep for you and your needs. Here are some tips to help get you started.
Take a hot bath or shower before bedtime. Many people enjoy taking a hot bath or shower before bedtime, but many don't realize the health benefits that come with doing so. There are various studies that show how taking a hot bath or shower before bedtime can lower your stress and help you relax.
Create a nighttime skincare routine. Sleeping with your makeup on can cause blemishes and clogged pores, which can lead to acne. To avoid this, it is important to remove all makeup before going to bed. It is important to use skincare products before bed because your skin is the largest organ in your body and it needs to be cared for. It is important to use your moisturizer before going to bed because the skin can dry out and damage if it's not protected.
I recently learned about Missha which has a variety of skin care products including a regime that you can use at night. It is important to use a gentle cleanser and toner before bed to minimize the risks of unwanted breakouts in the morning. The skin's natural oils will also be able to regenerate overnight, which will make your skin feel fresh and rejuvenated.
I picked Time Revolution Night Repair Ampoule 5X which is the Missha brand's fifth-generation leading overnight probiotic treatment to start my nighttime routine. This nourishing serum is infused with 77.2% Extreme Biome, formulated with 10 different probiotics for rapid effects. It helps strengthen and firm skin, improves elasticity and radiance, lifts, moistures, and brightens skin overnight. Ingredients are fermented with Missha's EXTREME FERMENT α™ Method, a unique three-step fermentation method that stably delivers an extreme boost of active ingredients to the skin.
I was most interested in this product because Time Revolution Night Repair Ampoule 5X is clinically proven to improve tired skin after just 10 hours of use. They recommend it for all skin types.
Other essential skincare items you need for a nighttime routine include a face wash, lotion, moisturizer, and eye cream.
Tips for a Restful Sleep
After you have your skincare routine figured out and you stick to it, there are a few other habits to start:
Sleep in a cool, dark, and quiet room. Sleep is one of the most important things we do to stay healthy and productive. However, many people struggle with getting enough quality sleep. This article will discuss the importance of sleep and how to go about improving your sleep routine.
Avoid alcohol or caffeine after 3pm. Caffeine and alcohol are two stimulants that should not be consumed after 3pm. They can cause drowsiness, headaches, and even insomnia overnight. If you're looking to get rest at night, these substances will do the opposite.
I'd love to know what products work for you at night. I'm still experimenting with my skincare regime, and I'd love to get more ideas.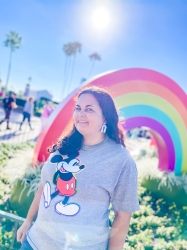 Latest posts by Krystal | Sunny Sweet Days
(see all)